OTJ Authors
Peter Fielding
Dr. Peter G. Fielding is a trombonist and music theorist who studied under Dave Sporny, Tim Conner, Dr. Nathaniel Brickens, Herb Schoales, and James Eager. He has taught at Mahidol University's College of Music (Thailand) and Oberlin College Conservatory of Music; and enjoyed a range of graduate teaching assistantships at the University of Massachusetts-Amherst, the Frost School of Music at the University of Miami, and the University of Missouri-Columbia. His collection of instruments includes all manner of trombones (soprano, alto, tenor, and bass), including several early 20th Century items and various alto/tenor horns, baritones, and euphonium. For more information, please view his LinkedIn or Academica Group profiles.
OTJ Reviews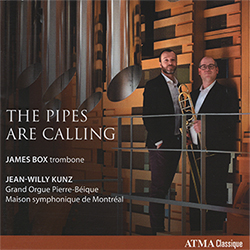 By
Peter Fielding
• October 19, 2019
James Box and Jean-Willy Kunz's April 2019 release of
The Pipes are Calling
is an exceptional recording for trombonists and organists alike.