Literature
Ancient Memory for Solo Bass Trombone: A Review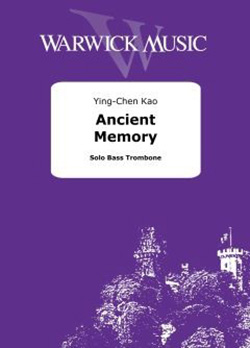 Kao, Ying-Chen.Ancient Memory for Solo Bass Trombone. Warwick Music, Seckington, Tamworth, UK, 2020. Sheet music or digital download.
Ying-Chen Kao's Ancient Memory is an unaccompanied trombone solo incorporating Northeast Asian vocal and instrumental folk influences to expand contemporary trombone soundscape and techniques. Commissioned by Huai-En Tsai for the Summer Trombone Workshop 2008 in Taipei, Taiwan, the tenor trombone version was among the required solo composition repertoire. Both tenor and bass editions were published by Warwick Music in 2020 and a comparison of the first twenty measures of the sample tenor and bass parts show that the bass trombone edition is predominantly a perfect fourth lower, spanning G4-C♯2, and wholly playable by the tenor trombonist with an F attachment.
The work's forty-seven measures span three-four minutes, is in ternary form (ABA), and will add programmatic variety to a concert or solo recital program. Ying-Chen Koa uses extended notation and technique spans glissandi, slide vibrato, grace notes, pitch bending, and use of a decrescendo with a small circle to portray her equivalence of a niente, conveying a nuanced understanding of the trombones sound palette while exploring some non-standard notation.
Tone bending is employed through the use of scooped lines to bend upwards (m. 3) and downwards (m. 35), imitating the Japanese Shakuhachi and Chinese bamboo flute. Some glissandi emulate this as a falling gesture at the end of some notes, while other glissandi are more typical spanning two notes. Many lie well on the horn (ex. mm. 26: F3-B2, mm. 41. A3-F3), while some will require some partial glissandi and skipping of partials to complete (mm. 8: C3-F♯3, mm. 45: C4-F♯3, and mm. 42: A2-B2). In addition to these approaches, the work's feathered beaming as a written out accelerando, changing meters, and use of various triplet and sextuple subdivisions will make this an engaging work to navigate for metrical aspects. Although the tenor trombone edition has received more attention, this bass trombone version would make for an excellent intermediate-level contemporary solo piece for advanced high school or early-level university tenor and bass trombone students alike.

Figure 1. mm. 38-42 of Ancient Memory showing feathered beaming and a variety of glissandi.
Ying-Chen Kao's website identifies a variety of performances by Huai-En Tsai in the United States and East Asia, with an embedded YouTube video of a performance of the tenor trombone version by Tsung-Wen Kao at the Kaohsiung Music Center, Taiwan (7 June 2010). Another tenor trombone performance by Goa Chongwen can be found on YouTube, from the Songs of Tashan Love and Hope Memorial Concert at the Cuisuba Yi Cultural & Visitor Center of Guizhou (28 February 2016). Given the accessibility of this bass trombone version, I look forward to other recordings being made and disseminated.