OTJ Development Team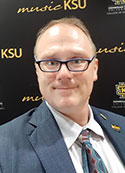 Peter Fielding, Reviews Editor
Dr. Peter G. Fielding is a music theorist and trombonist at Kennesaw State University, serving as Associate Dean for the College of the Arts and Associate Professor of Music for the Dr. Bobbie Bailey School of Music. He writings about the trombone span the Online Trombone Journal, International Trombone Association Journal, and Phlēng Dontrī/Music Journal (วารสารเพลงดนตรี). He has studied under Dave Sporny, Tim Conner, Dr. Nathaniel Brickens, Herb Schoales, and James Eager. His low brass collection spans all manner of trombones (soprano, alto, tenor, and bass) and valved oddities, including several early 20th Century items.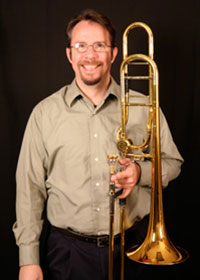 Richard Human, Jr., Publisher
Richard Human, Jr. is the Associate Professor of Trombone at Mississippi State University where he teaches applied trombone, trombone studio classes, conducts the Mississippi State Trombone Troupe, Freshman Music Theory, and coordinates the department computer lab and recording studio. He has performed across the southeast as a soloist, chamber and orchestral musician and is currently principal trombone of the Starkville Symphony and a member of the MSU Faculty Brass Quintet. He holds the B. M. Ed. from Augusta State University, the M. M. in trombone performance from Bowling Green State University, and the D. A. in trombone performance and orchestral conducting from Ball State University. His trombone teachers include Aarvard Larson, David Vining, Paul Hunt and John Seidel.