Recordings
Folksongs by Ensemble SONGS & Sarah Maria Sun: A Review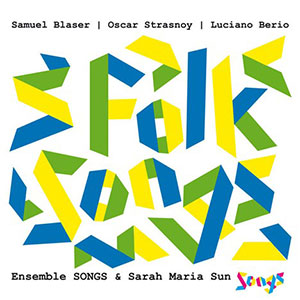 Bandcamp Digital Album (20 May 2022), Compact Disc (25 July 2022, Blasser Music ASIN: B09Y6BBR4P).
Folksongs is an excellent recording, displaying the Ensemble SONGS and Sarah Maria Sun's passion for multilingual traditional vocal repertoires cast for a decidedly contemporary chamber music sound palette. The album pays homage to Luciano Berio (1925-2003) and his direct influence to composers of the ensemble, Oscar Strasnoy, who received the 2000 Orpheus Prize for his chamber opera Midea from Berio. The album premieres Samuel Blaser's Worksongs for Soprano and 10 instruments (2019) alongside Oscar Strasnoy's Chanzuns Popularas Rumanchas for Soprano and 10 instruments (Swiss Folk Songs in Romansh language), (2019) and Luciano Berio's Folk Songs for Mezzo-Soprano and 7 instruments (1964).
Each work is a collection of folk-sourced and inspired songs, arranged for voice and masterfully woven for contemporary chamber instrumentation. The quality of the recording affirms the multilingual vocal artistry of Sarah Maria Sun (soprano) alongside the SONGS ensemble; comprising Oscar Strasnoy (piano and Rhodes), Samuel Blaser (trombone), Mathieu Ogier (DJ + electronics), Rebecca Lenton (flute and piccolo), Theo Nabicht (clarinet and bass-clarinet), Kirstin Maria Pientka (alto clarinet), Cosima Gerhardt (Violoncello), Pascal Viglino, Guillaume Vairet (percussion), and Manon Pierrhumbert (harp). Recorded in Basel, Switzerland on 15, 16 December 2020, this studio recording serves to build on earlier live performances by the ensemble in 2019 (Chanzuns Popularas Rumanchas, Worksongs, Folk Songs for Mezzo-Soprano).
As Luciano Berio's Folk Songs for Mezzo-Soprano and seven instruments (1964, Universal Edition) is the primary influence for the album's genesis and namesake, I encourage listening to the album in chronological order to hear where Berio started from (tracks 7-16) and where Strasnoy and Blaser drew influence for their further innovations. First composed in 1963 and published by Universal Edition in 1964, they provide a freely viewable full score of the 1968 edition (UE 13717). Black Is The Colour and I Wonder As I Wander are accessible examples to show the North American folk song and folk hymn repertoire that Berio integrated into his chamber music soundscape, invariably resulting from his residency at Mills College. The work spans English, French, Italian, Sardinian, Armenian, and Azerbajani, serving as a testament to the linguistic skills of Cathy Berberian, the work's dedicatee. While the trombone is not scored in the original version, Berio's expansion of the work for voice and orchestra involve sparse use of the trombone, it does employ some plunger muted passages, paired with the trumpet, in the eighth movement Motettu de Tristura (UE 13763).
Oscar Strasnoy's Chanzuns Popularas Rumanchas for Soprano and 10 instruments (Swiss Folk Songs in Romansh language) (2019), published through Universal Edition's scodo platform, is featured on track six. Building on the instrumentation of Berio's Folksongs, Strasnoy extends this through inclusion of a trombone, piano, and DJ/electronicia to provide a rich mosaic for five songs. A compelling sampling of the textures and soloistic demands for the work and the trombonist are readily portrayed in the final minute of music (16:01-17:22). The trombone writing spans a good variety of bass line and upper melodic writing, coupled with a variety of straight, cup, harmon, and plunger muted passages.
Having traced Berio's songs spanning North American and Europe, Strasnoy's work with Romansh, Samuel Blaser's premiere recording of Worksongs, brings us back to American-sourced English and French-language song repertoire. Blaser's Worksongs for Soprano and 10 instruments, published through Heights Music, is a setting of five songs for the full ensemble. As an inaugural recording featuring the composer as trombonist, I would like to draw attention to an extended solo trombone passage in Where Did You Sleep Last Night (1:30 - 2:15).
Folk Songs is a welcome album, showcasing the Ensemble SONGS and the soloist Sara Maria Sun's work to give traditional song repertoires a new voice, reaching broader audiences through these concertized collections of new music for this recording project, while sharing a broader range of multilingual repertoire through our ever-growing network of global musical communities, as well as an excellent premier recording for the trombonist/composer Samuel Blaser.