Recordings
Portraits - Technology and Bones: A Review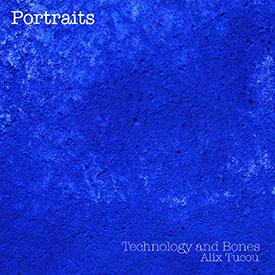 Portraits - Technology and Bones. Alix Tucou bass trombone; Simon Denizart, piano, on "Ce Balcon;" Kalun Leung, tenor trombone, E-trombone on "Modernisme;" Thomas Julienne, upright bass, on "Ce balcon" and "See you See you"); Dustin Carlson, guitar, on "E Qui Che Lascio" and "CuTiLuDissi.". Bandcamp, 2021. Digital album, 45 minutes. "See You, See You," Alix Tucou/Giovanni Solima; "Dormire Con I Fantasmi," Alix Tucou; "Modernisme," Alix Tucou; "Somewhere," Alix Tucou; "Ce Balcon," Alix Tucou/Simon Denizart; "È Qui Che Lascio," Alix Tucou; "San Rocco," Alix Tucou/John Dowland; "Cu Ti Lu Dissi," Rosa Balistreri.
Portraits - Technology and Bones is a wonderful mosaic that will appeal to many trombonists and contemporary music enthusiasts. The album continues Alix Tuscou's Technology and Bones work, affirming his excellence as a bass trombonist, composer, mixer/producer, and all-around collaborative artist.
The Bandcamp download includes a two-page press release and the website alixtucou.com provides an ample introduction and extensive liner notes affirming the work's inspiration:
With "Portraits" I change my point of view and present myself as a painter capable of painting musical portraits. This modus operandi places the figure of the musician in close relationship with the figure of a visual artist who does not use colors and canvases but a bass trombone and soundscapes.
The soundscapes are versatile, spanning a range of live environmental and studio-sculpted materials, all with a rich acoustic bass trombone. Links and track titles are shared below, coupled with the name of the artist or event that inspired the work's genesis. Of particular interest are the video samples on the site, including a full video of the first track "See You, See You" - YouTube. His YRB's interview about this album helps share his passion for this album.
Julia Patinella's singing of Cu Ti Lu Dissi is a fitting reflective closing track for an album spanning a rich and varied range of sounds and possibilities. As Alix Tuscou's Technology and Bones projects advance the trombone through these multi-faceted music genres, see also for links to the 10 tracks of his 2018 Bandcamp album Technology and Bones: Dedications to the Bones. I strongly recommend giving Portraits a listen as it is well-deserving of your time.