Literature
Concerto for Trombone by James A. Beckel Jr.: A Review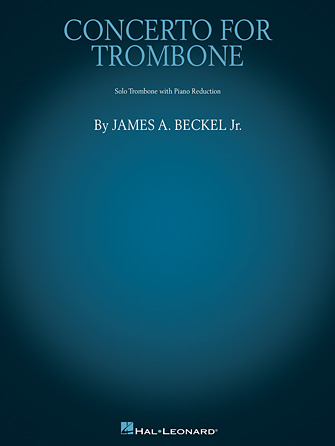 Concerto for Trombone by James A. Beckel Jr. Solo Trombone with Piano Reduction Hal Leonard ISBN: 9781495002571.
James A. Beckel Jr.'s Concerto for Trombone is a welcome addition to our contemporary solo tenor trombone repertoire. Forged through a collaborative commissioning of ten bands and directors, the work was first premiered by the composer as soloist, alongside Greg Marton on piano in 2013. Subsequent premieres in orchestral and band forms settings were made in 2014, broadening the work's reach amongst the collaborating commissioning ensembles and broader communities. Although no recording of the piano version was available at the time of this review, the composer's web site hosts Joe Alessi's performance with the Gulf Coast Symphony (under "Audio Recordings"). Carl Lenthe's performance with the Indianna University Jacob School of Music Wind Ensemble (1st mvmt., 2nd mvmt., 3rd mvmt.) and William B. Mathis' performance with the Detroit Civic Wind Ensemble are available on Youtube.
The concerto is an accessible contemporary tonal composition with modest range demands spanning high C (C5) to low E (E2). The composer's notes share general impressions of the work's three movements and draws attention to a recurring oscillating melodic motif that spans a major and minor third that returns in each movement. The three-movements employ continuous measure numbering, totaling 688 measures of music, and make use of 57 rehearsal figures (A-EEE). Given the variety of tempo and meter changes in the work, these atypical items will greatly facilitate rehearsal with a large ensemble.
As Beckel is a trombonist, the printed solo trombone part is expertly engraved, with many thoughtful cues and practical page turns throughout. Anticipating that the solo may be played by a range of individuals, Beckel has included brief ossia passages to help make the work more accessible at climactic high points without detracting from the building of intensity. Examples include the slight simplification of some rhythmic lines and an octave displacement in the one spot written in tenor clef. Although the solo part includes many suggested extended slide positions to facilitate some technical passages, the printed piano reduction, forged by Greg Marton and Sylvia Patterson-Scott, include many more alternate slide positions for the trombonist, including some inventive mid-register valve usage to facilitate other technical passagework and sound color choice for subdued passages! While it is great to learn of such variety of editorial slide comments, I would encourage the next reprint of the solo part to include these additional slide placement suggestions.
This work is an appealing and welcome addition to the solo trombone literature, appropriate for recital and featured solo with large ensemble alike. For those wanting to learn more of Beckel's other compositions, I encourage your reading the Online Trombone Journal's review of the DePauw University School of Music CD of his brass ensemble works Musica Mobilis.