Recordings
Musica Mobilis - Music for Brass: A Review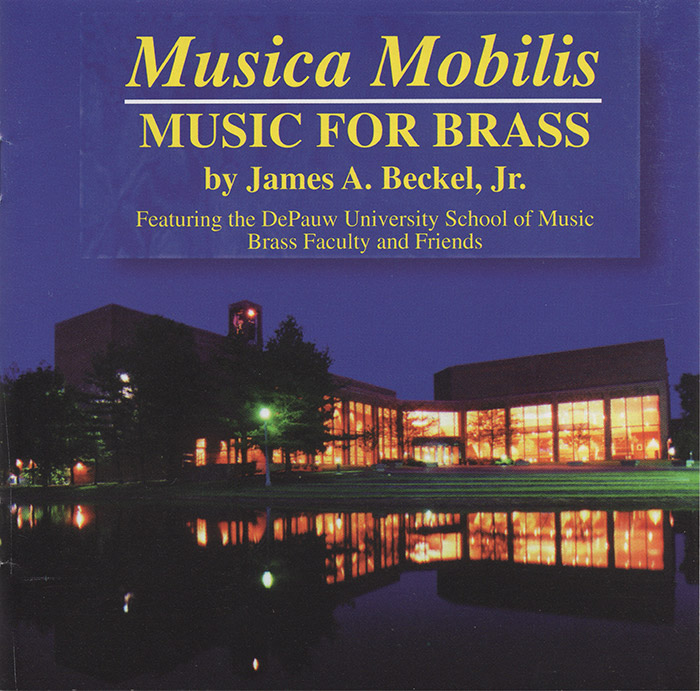 MUSICA MOBILIS. Compositions by James A. Beckel. World Media Group, Indianapolis, IN, 2001. 1 compact disc. Total time 49.29. Musica Mobilis for brass choir, The Chamber Brass Choir featuring DePauw University faculty members Robert Danforth and Richard Graef, horns; Larry Wiseman, trumpet; Orcenith Smith; tuba, and Steve Hanna, percussion. The Glass Bead Game (reduction for horn, harp, percussion and piano), Kent Leslie, horn; Thomas Harvey; percussion, Sheryll McManus; piano, Wendy Muston; harp. Freedom's Hope for brass quintet, The Keynote Brass. A Christmas Fanfare for brass choir, The Chamber Brass Choir, Tom Akins, conductor. "Father Jacobus" from The Glass Bead Game, Kent Leslie, horn; and the Indianapolis Chamber Orchestra, Kirk Trevor, conductor. A Christmas Medley, The Chamber Brass Choir. "The American Dream" from Night Visions and Inaugural Fanfare and March, The United States Coast Guard Band, Commander Lewis J. Buckley, conductor.
This compact disc contains a variety of programmatic music composed by James A. Beckel, who was the principal trombonist in the Indianapolis Symphony from 1969 to 2018 and is a Professor of Music at DePauw University. The performing ensembles include the DePauw University Faculty Chamber Brass Choir, The Keynote Brass (DePauw's faculty quintet), the Indianapolis Chamber Orchestra, a mixed ensemble including horn, percussion, piano and harp, and The United States Coast Guard Band.
The powerful title work, Musica Mobilis (1996), is wonderfully performed by the Chamber Brass Choir. This highly tonal piece is inspired by the work of American sculptor Alexander Caulder, who is primarily known as the inventor of the mobile, which is "a construction or sculpture frequently of wire and sheet metal shapes with parts that can be set in motion by air currents." Musica Mobilis captures the mobile's changing character through a slow-then-fast opening section characterized by rhythmic vitality, heard in soaring and imitative motives from the high brass and percussion, accompanied by punchy comments from the low brass. The full orchestration then thins out and the action slows during a dynamic and colorful shift featuring vibraphone, lightly touched cymbals and a lyrical horn solo. All melodic material in Musica Mobilis, including this beautiful solo, is artfully derived from the five-member pitch group: A, F#, G, C and D. A variety of metallic percussion instruments add just the right amount of spice to the mixture, conjuring up the idea of the actual physical construction of the mobile. Action returns by way of crescendo and returning interjections from the high brass, underpinned by a basement of ostinatos and brought to a climax in an energetic outpouring of sound that is only possible with brass and percussion ensembles.
Continuing the programmatic theme, The Glass Bead Game is a chamber ensemble adaption of a concerto for horn and orchestra. It is based on the novel of the same name by Hermann Hesse. The first movement "Call and Awakening" portrays the youth of Joseph Knecht, the main character of the book, and contains more superb playing by hornist Kent Leslie. Pianist Sheryll McManus and percussionist Steve Hanna start the movement seemingly in the midst of a hurried errand, which is soon broadened and adorned by a sweeping melody performed by Leslie. The pairing and dialogues between piano, horn and percussion continue with active, quick motives as the instruments spar with one another. The slow and solemn beginning material returns to seemingly round out the movement, but not before a little more virtuosic back and forth in rhythmic conversation and the broad horn line give their final pronouncements.
The second movement "Father Jacobus" starts in a pensive mood, employing glissandi from the harp, bell tones for the horn, as well as the prevalent use of wind chimes. As the music develops, the hymn-like horn melody and the orchestral bells paint a solemn, monastic picture. This is in keeping with the story in the literary source. This material is heard in its original form later on the CD performed by the Indianapolis Chamber Orchestra featuring Kent Leslie again as soloist, apparently from a live concert.
"Master Ludi: Coronation and Death" starts with a festive, dance-like scene with drum beats and leads to short argumentative outbursts from the horn and defensive piano and harp. Although the novel has a futuristic setting, much of the music here seems to conjure up a medieval scene before moving to more contemporary debate between piano, drums and a disputing horn line. This technique helps the music in depicting the scenes from the Hesse novel.
In Freedom's Hope (1995) for brass quintet the trombone introduces the first theme which soon grows into a group texture that uses optional percussion. This pensive opening changes to a faster, more joyful mood led by trumpet and followed by counter melodies in syncopated variation. This short, very happy sounding piece lives up to its title; it is perfectly suited for a feature in a patriotic program - it is medium in difficulty, with an imitative, conventional main theme, chordal and syncopated contrasting sections with even a tuba ostinato-Latin-sounding phrase, and a nice trombone solo. It is a fantasy on exuberance!
A Christmas Fanfare (1992) is a joyous work for brass choir and percussion drawing upon short borrowings from a few popular Christmas songs. Once again, a piece enjoyable to play and to listen to. It is well configured and performed.
A Christmas Medley (1990) is much like the above but with longer, fully developed carols. This is a very colorful, brassy arrangement with creative use of mutes and imitative settings in mixed meter, especially the Brubeck-like, take five version of "We Three Kings."
The American Dream (1992) was originally the fourth movement of a larger work for symphony orchestra but is transcribed here for band by Beckel. Its main melodic material is taken from the American hymn "For the Beauty of the Earth" and placed in a bright, resplendent setting that is well-conceived for concert band both musically and programmatically. Highly inspirational and toe-tapping, it fits well into the patriotic line ups so often brought to us by professional and university wind bands. It is superbly executed on this CD by The United States Coast Guard Band.
The same can be said of Inaugural Fanfare and March (1999). This brief two-part festal composition was composed in celebration of an academic event at University of Indianapolis. Its two-themed structure, upbeat rhythms, and brass-laden major tonality give it the power to elicit the perfect atmosphere for a joyous event.
At first glance, this CD seems to contain a somewhat odd grouping of music: Christmas Music, programmatic music for brass choir and orchestra, patriotic-festive pieces for band and functional music for brass quintet. And additionally, for this reviewer (alas, a trumpeter), it would have been nice to have credited the second trumpet player from the brass quintet in the liner notes, even if he/she was not a faculty member. But despite those trivial criticisms, "Musica Mobilis - Music for Brass" is an excellently performed collection of works by an equally excellent composer - James A. Beckel - who is to be congratulated on its high quality.
Your browser does not support the audio element.

Musica Mobilis

Your browser does not support the audio element.

"Father Jacobus" from Glass Bead Game

Your browser does not support the audio element.

The American Dream