OTJ Authors
Horace Maxile
Horace Maxile teaches music theory at the University of North Carolina at Asheville.
OTJ Reviews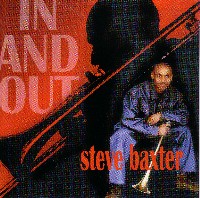 By
Horace Maxile
• September 08, 2004
Given Steve Baxter's impressive list of performers with which he has performed, it is no surprise that his first solo recording
In and Out
is also impressive. As composer and producer, Baxter offers a variety of tracks ranging from mid-tempo R&B grooves to heavy funk pockets to lush ballads.