Recordings
In and Out: A Review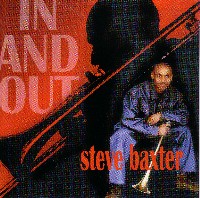 Steve Baxter's In and Out. Slubba Bub Records 634479480928. Personnel: Steve Baxter, trombone, vocals, keys; Herman Jackson, guitar, organ; Paul Jackson Jr., rhoads; Reggie Hamilton, bass; Eddie M, saxophone, Dino Soldo, sax; Rodney Lee, rhoads; Brion James, guitar; Lamont Vanhook, vocals; Ernie Fields Jr., saxophone; Reggie McBride, bass; Al McKay, guitar; Herman Jackson, keys, organ; Wade 3, vocals; Wade Linday, keys; Julie Delgado, vocals; Andre Robertson, saxophone; Harry Kim, flugelhorn; Richie Garcia, percussion; Steve Baxter, programming; M. Fisher, vocals; Greg Thomas, saxophone; Ricky Minor, bass;Land Richards, drums; J.V. Collier, bass; Kat Dyson, guitar; Lamont Vanhook, vocals. Selections: Chatter, Pain, Gansta Bone, Right Time, In and Out, Sunrise In Houston, Sliding By, You Are, This One's For U, Long Distance, True Friends
Given Steve Baxter's impressive list of performers with which he has performed (Ray Charles, Gladys Knight, and Johnny "Guitar" Watson among others), it is no surprise that his first solo recording In and Out is also impressive. As composer and producer, Baxter offers a variety of tracks ranging from mid-tempo R&B grooves to heavy funk pockets to lush ballads. As a trombonist, he showcases a rich and rounded tone that speaks through the various styles represented on this recording. His sense of line, from compositional and improvisational perspectives, is a noteworthy highlight of this project. A few tracks are addressed specifically in the following paragraphs.
In and Out, the title cut, demonstrates the very best of this project. Well-placed vocals, sensitive programming, and solid arranging/production are all featured on this track. Saxophonist Donald Hayes, although his solo is brief, does not overplay the addictive groove. Paul Jackson, Jr. (guitar) offers a fine solo during the thinly textured vamp. Baxter rounds off this track with a tasteful solo that features a strong improvisational character and his definite attention to good phrasing. The track ends with a classic exchange of "trading fours" between Baxter and the guitarist.
The latin-flavored Sunrise in Houston presents a welcomed contrast to this project. Baxter's skills as composer and producer are at full display again. The trombone counterline in the statements of the "head" shows an affinity to line. Harry Kim (flugelhorn) and Andre Robertson (saxophone) both render great solos. Steve Baxter, surprisingly, does not solo on this track. However, he does offer an excellent solo, within the context of a serious funk groove, on the following track, Sliding By. Sliding By also features a rap by Baxter in which he addresses the value of staying focused and confident.
Steve Baxter takes a strong step with this recording as the lead instrumentalist on a project such as this. Saxophonists are usually promoted on projects involving more contemporary styles and grooves. Baxter, in turn, posits a refreshing alternative as his trombone moves toward directions other than the traditional.
Strong player. Strong project.
Ordering information and sound clips available at CDBaby.