OTJ Authors
Gordon Bowie
Gordon W. Bowie, bass trombonist, composer and conductor, was director of the Montgomery Village Community Band in Montgomery County, Maryland. He was bass trombonist for the Virginia Grand Military Band, Legacy Brass and other DC area ensembles. In addition, for the 1999-2000 school year he served as band and orchestra director for St. Stephen's and St. Agnes Schools in Alexandria, Virginia.
OTJ Reviews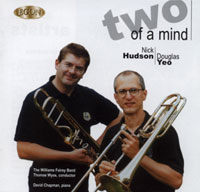 By
Gordon Bowie
• June 18, 2002
Like Douglas Yeo's previous recording venrtures, this is an eclectic mix of material. Unlike the previous albums, this includes the added element of sharing the solo honors with Nick Hudson, principal trombone of the Williams Fairey Band.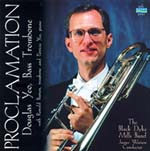 By
Gordon Bowie
• January 01, 1998
Proclamation, a ground-breaking CD by Boston Symphony bass trombonist Douglas Yeo, is described by its executive producer as "a recording in celebration of the bass trombone." What a splendid celebration it is!
By
Gordon Bowie
• January 01, 1900
During the last quarter-century the available literature for Bass Trombone has increased dramatically both in quantity and quality as the instrument has become more widely recognized for its unique qualities and abilities. These two works are examples of that trend. Both of these works are for unaccompanied Bass Trombone.