Recordings
Two of a Mind by Douglas Yeo and Nick Hudson: A Review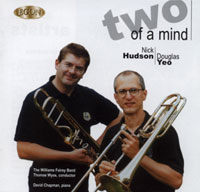 Two of a Mind. Egon SFZ 107. Artists: Nick Hudson and Douglas Yeo with the Williams Fairey Band, Thomas Wyss, conductor and David Chapman, Piano. Works: Trombone Institute of Technology, Michael Davis; Vigilant, Ty Watson; Duo from Cantata 78, J.S. Bach, arr: Douglas Yeo; Concertino for Band and Trombone, Erik Leidzen; Mr. Nice Guy (Song for Bass Trombone) Adrian Drover; Questions, Terry Camsey; The Call, Ralph Vaughan Williams; Silent Noon, Ralph Vaughan Williams; Fire Divine, John Larson, arr: Ty Watson; Concerto No. 1, Alexi Lebedev; Pastorale, Eric Ewazen, My Funny Valentine, Richard Rogers, arr: Adrian Drover; Currents, Lawrence Wolfe.
This remarkable CD is a compilation of disparate elements that becomes unified by its inclusion of styles and formats in an almost alternating sequence. It features Douglas Yeo and Nick Hudson, two outstanding trombone soloists who, though from different countries, backgrounds and disciplines, blend together perfectly as a duo and complement each other seamlessly in alternating solo tracks. The excellent Williams Fairey Band provides the background on six of the selections, while another six are accompanied by David Chapman on piano and one is an unaccompanied duet for bass and tenor trombone.
Like Douglas Yeo's previous recording venrtures, this is an eclectic mix of material. Unlike the previous albums, this includes the added element of sharing the solo honors with Nick Hudson, principal trombone of the Williams Fairey Band, whose impressive resume in the British brass band tradition complements Doug's career as bass trombone of the Boston Symphony Orchestra. Their pairing, together with the Williams Fairey Band and David Chapman, pianist, provides an extremely interesting variety of uniformly excellent, but stylistically diverse works.
An excellent 12-page program booklet contains information about the performers as well as the pieces and their arrangers. It is included in the very attractive jewel-case packaging that features the cover photo reproduced on the disc label.
The collection opens with the unaccompanied duo, Trombone Institute of Technology, by Michael Davis. Jazz-influenced writing and angular, boppish lines make this technical tour-de-force a showcase for fast slide work and the smooth blend of Hudson's tenor and Yeo's bass trombone sounds.
The brilliant and smoothly energetic playing of the Williams Fairey Band provides the background for Yeo's virtuosic bass trombone in the next track, Vigilant, by Ty Watson. The band's smooth transition between styles and tempi in the rapidly developing segments of this piece is a delight for the listener as well as a firm underpinning for the soloist. The Band is also heard with Hudson on Concertino for Band and Trombone, by Erik Leidzen, to similarly excellent effect.
Jazzier stylings by the Williams Fairey band prevail on Mr. Nice Guy (Song for Bass Trombone) by Adrian Drover, a piece dedicated to George Roberts and featuring Yeo's bass trombone, and My Funny Valentine, Richard Rogers, arranged by Adrian Drover, featuring Hudson with the band. Drover's writing is smooth and expressive, and his arranging brings out the best in both band and soloists.
The devotional Fire Divine, by John Larson, arranged by Ty Watson features both soloists playing smoothly in duo with a chordal accompaniment by the band that swells into an effective and satisfying crescendo, then fades away. Beautiful soaring countermelodies by the first cornet complement the blend of the trombones and add to the contemplative feeling of this piece.
The band's virtuosity is featured equally with both trombonists in Currents, by Lawrence Wolfe, a stunning piece composed specifically for this recording and these soloists. Alternating segments for band alone, band with duo and cadenzas for the duo, this piece is a brilliant statement of the capabilities of these performers and the possibilities of this combination. It is fittingly placed as the last track on the CD, a summation and conclusion.
No less important are the remaining offerings in this collection, accompanied by David Chapman on Piano. The introspective Questions, by Terry Camsey and Silent Noon, by Ralph Vaughan Williams feature Nick Hudson, while Concerto No. 1, by Alexi Lebedev and the devotional The Call, by Ralph Vaughan Williams, feature Douglas Yeo. The duo performs with piano on Duo from Cantata 78, by J.S. Bach, arranged by Douglas Yeo and Pastorale, by Eric Ewazen. Chapman's playing is solid and capable. It is fluid and expressive, yet always remains very much in the background.
Unfortunately, though all excellent in themselves, because of their lighter texture the piano-accompanied works lose some impact by their juxtaposition with band-accompanied pieces. This takes some adjustment for the listener as the program alternates between the band sound and the piano sound. The programming of alternate solos and duos with either band or piano must have been a considerable challenge, and ultimately the result is an excellent collection rather than a unified listening experience.
This is a must-have album for trombone enthusiasts, appreciators of fine solo and duo playing and especially for anyone who enjoyed Yeo's Proclamation. Anyone who appreciates the sound of a fine brass band will also want to have this album.