OTJ Authors
Jonathan Houghtling
Queensbury, NY native Dr. Jonathan Houghtling received his Doctor of Musical Arts degree in Trombone Performance from The University of Alabama, where he studied with Dr. Jonathan Whitaker. Jonathan H served as the sabbatical replacement for Dr. Whitaker for the 2017 fall semester. Prior to his studies at UA, Jonathan was an active performer and educator in Chicago. He has performed with the Chicago Symphony Orchestra, Lyric Opera of Chicago, Atlanta Symphony Orchestra, Alabama Symphony Orchestra, North Carolina Symphony, Charlotte Symphony Orchestra, New World Symphony, Omaha Symphony, Louisiana Philharmonic Orchestra, among others. Jonathan served as Principal Trombone of the Dubuque Symphony for the 2015-2016 season. He also held the chair of Principal Trombone with The Northbrook Symphony from 2011-2016. As an avid chamber musician, Jonathan has performed with the award-winning contemporary ensemble, Dal Niente, as well as the award-winning brass quintet, Axiom Brass. He is also a founding member of the brass ensemble, New Chicago Brass.
Jonathan has won the International Trombone Association's Alto Trombone and Larry Wiehe solo competitions. He was a finalist for the International Trombone Association's Van Haney orchestral excerpt competition. He has participated in the National Repertory Orchestra, as well as the Alessi Seminar, where he was a fellow. Jonathan completed a Master of Music degree and Post-Master's Certificate in Performance at DePaul University, where he studied with Mark Fisher and Charlie Vernon, as well as a Bachelor of Music degree at Indiana University, where he studied with Peter Ellefson and Dee Stewart.
Jonathan currently serves on the faculty at The University of Montevallo, Talladega College, Alabama School of Fine Arts, as well as several high schools and middle schools. He holds the chair of Second Trombone with the Huntsville Symphony, and can also be found frequently performing with various orchestras throughout Alabama and Mississippi.
OTJ Reviews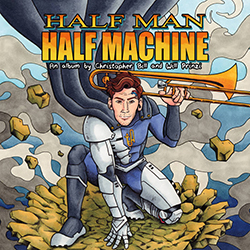 By
Jonathan Houghtling
• May 18, 2020
The fact that Christopher is able to perform on trombone and voice at such an incredibly high level, in addition to seamlessly combining all of the technological elements, makes him the epitome of the consummate musician.