Literature
Novita: A Review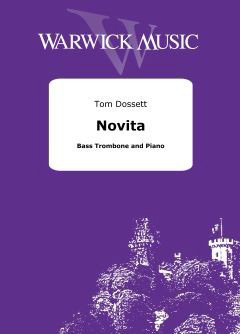 Dossett, Tom. Novita for Bass Trombone and Piano. Warwick Music TB1090, Seckington, Tamworth, UK, 2021. Sheet music or digital download.
Currently based in Dallas, Texas, composer Tom Dossett is noted for his contributions to the bass trombone literature. He had a 20-year career as an arranger for the Air Force bands including the USAF Academy Band and the U.S. Air Force Band in Washington, D.C.
"Novita" ("girlfriend" in Spanish) is a pleasant bossa nova that could serve as an interlude or encore piece in a recital program. The three-page solo part ranges up to E4 and finishes on its lowest pitch, F1. The part is full of nice 16th-note syncopations which could trip up a player for whom rhythm is a challenge. However, once a student captures the groove of the piece, the rhythms should not be too difficult. Some of these faster runs definitely do not stick to the major-minor model of construction, so attention will need to be paid to the interval content. There are moments with moderately awkward leaps but nothing insurmountable with a bit of practice. Dynamics are very sparsely written; there are only two markings in the solo part.
The piano part is not terribly difficult and provides some rich harmonies often using quartal constructions and jazz chords. A pianist with some jazz experience would be a good choice but not a necessary one. Most of the harmonic richness falls to the right hand with a comparatively simple left-hand part.
The print quality (a PDF was reviewed) was excellent; something we have come to expect from Warwick Music. I would recommend this piece as a nice mellow addition to the bass trombone solo repertoire.