Recordings
Aries Trombone Quartet: A Review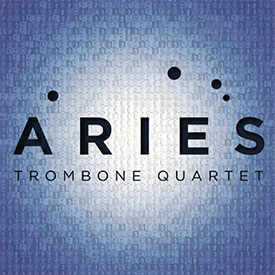 Aries Trombone Quartet. Joseph Alessi, Ian Bousfield, and Jeremy Wilson, tenor trombones; James Markey, bass trombone. 60 minutes. "Taming Giants" (David Faleris), "String Quartet in B Minor" (Samuel Barber, arr. Simone Maffioletti), "Transonance" (Marshall Gillkes), "Song of the Valar" (James David), "Six Bagatelles" (Timothy Higgins), "Flying Ram Blues" (Ryan Middagh).
From time to time, the trombone community has been blessed with recordings by all-star trombone ensembles. Take for example the Four of Kind recordings. More recently, we have seen recordings by the New Trombone Collective and the World Trombone Quartet. This group, the Aries Trombone Quartet continues that fine tradition with a superb recording of highly challenging repertoire. With the exception of the final piece, every piece was written or arranged by a trombonist. Given the difficulty of these pieces, it shows how far the perception of our instrument's capabilities has advanced.
David Faleris, "Taming Giants"
Faleris is a composer, trombonist, educator, and administrator currently living in Glasgow, UK, where he is composing for both visual media and the concert hall while working for Royal Conservatoire of Scotland. Taming Giants has three movements: "Giant!," "Taming," and "Celebratory."
Movement one, "Giant!," begins and ends slowly with thick ominous chords which sandwich a faster middle section. In movement two, "Taming," the quartet shows off well-controlled soft entrances. I have heard other recordings where brass ensembles struggle to maintain a pure sound at the softest dynamics. Not the case here! In addition to an excellent blend of sound, Faleris includes some lyrical wide-interval melodies giving each player a chance to show off a wonderful singing vocal approach. If you are familiar with Faleris' City of Arts and Sciences, you will hear echoes of that piece in movement three, "Celebratory." For my tastes, Faleris' writing here gets a bit stuck without a clear direction to the goal. The thickly layered ending, however, is uplifting!
Samuel Barber, "String Quartet in B minor", Op. 11 (1936), arr. by Simone Maffioletti.
The opus 11 is the second of Barber's two string quartets. The arranger is the solo trombonist of the Luzerne Symphony Orchestra. I previously wasn't familiar enough with the first movement (Molto allegro a appassionato) but I can see why one would want to arrange it for trombones. As the movement title implies, there is a lot of passion in this piece. As you might expect, one big challenge of arranging a string quartet for trombones handling the wide range of the string instruments. That is less of a problem when you have four virtuoso performers. A strikingly peaceful chorale near the end of the movement stands in stark contrast to the previous intensity. It is handled with some wonderful dolce playing. The powerful chords at the end of the movement work so well on trombones, I find myself forgetting that this passage was originally composed for strings.
The second movement (Molto adagio) is the famous "Barber Adagio" which has entered into the public imagination. I wonder if it was this movement that motivated the arrangement as a whole. The combination of the slow tempo and sustained intensity presents a challenge compounded by the air control challenges of brass instruments! Recording this must have taken tremendous patience and endurance. The climax is both well-tuned and blended. At times, solo entrances are a bit strong for my taste but this may reflect the wisdom of "safe soft." The highest notes at the climax are played with a "no-doubt" sense of security.
The final movement (Molto Allegro) movement opens with a recap of the intensity of the first movement. In context, following the second movement, it is an emotionally jarring moment. I am continually impressed by the wide-ranging legato lines for their consistency of tone and connection. This movement is much shorter and serves as a kind of coda to the work.
Marshall Gillkes, "Transonance"
Gilkes, an internationally known jazz trombonist, is keenly aware of what is possible for our instrument and he certainly puts these performers through their paces. The ease with which James Markey moves about his instrument is a joy to behold. This 8 1/2 minute piece progresses through a variety of moods, returning at times to bold fanfare chords that seem to demarcate sections of the composition.
This piece certainly showcases the talents of the performers but, beyond that, didn't grab me musically. Perhaps this is due to its placement following the emotional intensity of the Barber, putting it at a disadvantage. Honestly, I'm not sure what could follow that piece. Perhaps if it had been placed closer to the end of the CD it might have worked better for me. Of course these days, who listens to a CD recording from start to finish?
James David, "Song of the Valar"
James David is a composition professor at Colorado State University. Although there were no program notes on the disc, they can be found on the composer's website:
Song of the Valar for trombone quartet is based on a passage from The Silmarillion by J. R. R. Tolkien. The Valar in Tolkien's Middle-earth fictional mythology are a group of spiritual beings who literally sing the universe into being, with the eldest being Ilúvatar serving as the leading voice. Two brothers, Manwë and Melkor, who are broadly represented as good and evil respectively, take up the themes of Ilúvatar. However, Melkor weaves discordant ideas into their song due to his vanity and self-delusion. Finally, Ilúvatar and Manwë tame the dissonance, although the strains of Melkor remain woven in the fabric of the universe. In my composition, the bass trombone presents the themes of Ilúvatar and Manwë, while the first tenor trombone's muted entrance represents Melkor. The work moves from a bold opening that depicts the chaos prior to creation, followed by the harmonious statements of Manwë and Ilúvatar. A polyrhythmic dance is interrupted by Melkor's theme which eventually overtakes the remaining three players. As Melkor's discords build to a climax, it is suddenly interrupted by the bass trombone's powerful intonation of Manwë's theme. The piece concludes with a return to harmonic order (represented through perfect fifths), while a hint of discord lingers."
This piece is bolder and more dissonant than earlier pieces on this recording and commands the listener to pay attention. There are moments of intensity bordering on rage. The performers handle the rhythmic challenges quite well.
Timothy Higgins, "Six Bagatelles"
Mr. Higgins is the Principal Trombonist of the San Francisco Symphony and is rapidly building his reputation as a composer. These six short pieces demonstrate not only his compositional skill but, once again, his understanding of what is possible for top-tier trombonists.
The short movements are: "Fanfare," "Clock," "Tap Dance," "Pastorale," "Interlude," and "Tarantella." I had to chuckle upon hearing the "Clock" movement in that it did precisely the opposite of that implied by its title: the tempo changed almost constantly. These changes were beautifully handled by the quartet. "Tap Dance" demands some extremely rapid tonguing often on stacked sonorities. If they were single-tonguing, it's time for me to wave the white flag! "Pastorale's" ending demonstrates some wonderful breathing control and tuning. "Interlude," while playful, did seem to have some slightly less-than-perfect moments. It's nice to realize that even these stellar performers are human. The rapid 6/8 figures of the "Tarantella" movement are traded off seamlessly among players and the whole piece concludes with a radiant major chord.
Ryan Middagh, "Flying Ram Blues"
Saxophonist Ryan Middagh is the Director of Jazz Studies at the Blair School of Music at Vanderbilt University. One thing I appreciate about this recording is the ability of the performers to lay on the backside of the beat as Markey lays down a sweet walking bass line. Were they improvising? We don't know but I enjoyed it!
Overall, this is a superb recording by four of the finest players of our time. Highly recommended.
Recording previews and purchasing information can be found at Spotify and Apple Music.