Recordings
Reconnected: A Review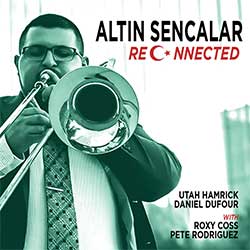 Reconnected. Altin Sencalar, trombone and euphonium; Utah Hamrick, bass; Daniel Dufour, drums; Roxy Coss, tenor sax (6); Pete Rodriguez, flugelhorn (2). Outside in Music/Next Level, NL 2125, 2021. Compact disc and digital media, 41 minutes. "Chance" (Altin Sencalar), "Links" (Altin Sencalar), "Desnudo" (Altin Sencalar), "A Modern Memory" (Altin Sencalar), "Tenderly" (Walter Gross), "Reaching Out" (Altin Sencalar), "I Hear a Rhapsody" (George Fragos, Jack Baker, Dick Gasparre), "Reconnected" (Altin Sencalar).
Getting in touch with one's heritage is a key component to fully understanding oneself and trombonist/euphoniumist Altin Sencalar has done just that with his latest jazz album, Reconnected. Through the lens of the atypical chord-less jazz trio format and a series of mainly original compositions, the music on this album serves the sole purpose of paying homage to the Mexican and Turkish musical traditions of Sencalar's grandfathers. Put simply, this album is about becoming "reconnected" and Sencalar pursues it with relentless vigor.
The musical journey begins with the infectious sounds and beats of "Chance" (Sencalar), which showcases the possibilities of the chord-less trio. The discursive musical textures bring forth a sense of irresolution and appropriately allude to the track title. The trombone, with its multifarious roles and short but powerful solo, unveil Sencalar's technical prowess as well as his understanding of harmony, rhythm, and bebop vocabulary. Utah Hamrick's bass solo blends seamlessly with the unique ambience of this tune. Of course, the common thread throughout this number is Daniel Dufour's dance-provoking drum grooves.
Renowned jazz trumpeter Pete Rodriguez's presence on the modernesque "Links" (Sencalar) is a delightful addition to the trio setting. His improvisation echoes the voices of jazz trumpet legends such as Woody Shaw, Freddie Hubbard, and Clifford Brown. Sencalar follows with an equally impressive solo. One cannot ignore Dufour's tasty drum solo which is drenched in what is colloquially known as "latin swing" - most notably heard by master latin percussionists who can generate a subtle yet powerful lilt to the groove, analogous to a jazz rhythm section deep in swing.
"Desnudo" (Sencalar), with its hint of norteño music combined with the presence of the Habanera rhythm - one of jazz's first fundamental elements - make it a very unique tune that will keep you on your toes. A "stank" face workout is in order on Sencalar's relaxed "A Modern Memory" as the trio swings undisputedly on every note. Tasty solos by all.
The timeless ballad "Tenderly" (Walter Gross) highlights one of Sencalar's secret weapons: his sensual voice on the euphonium. He retains his musical identity and just like his trombone playing, has a strong command of the instrument, but on this standard, he speaks with a rich, velvety tone. A sentimental atmosphere from start to finish with first-class ballad playing from Sencalar. In the placid vibes of Reaching Out (Sencalar), we get to hear the big, bluesy tenor sound of Roxy Coss. Her solo is drenched with fresh ideas rooted in the jazz tradition, but with a modern perspective. Sencalar contrasts his solo with more rhythmic and motif-oriented ideas.
On "I Hear a Rhapsody", a trombone favorite at jazz jam sessions, we hear good old-fashioned, hard-swinging playing from everyone that any jazz lover can appreciate. With Sencalar's "Reconnected", the album closing track, a keen listener can recognize its spiritual nature. From the chant-like, meditative introduction to the high-energy, almost frantic, middle section, this musical work is a journey. Influences from John Coltrane's "Resolution" (Impulse, 1965) are present and it brings to mind Nick Finzer's "A Sorcerer (Is a Myth)" (Outside in Music, 2020). After an entrancing trombone solo by Sencalar, Hamrick takes a prayer-like bass solo during a pivotal juncture of the piece.
Reconnected is an exceptional album with a phenomenal lineup of musicians. Sencalar pays tribute to his musical roots while clearly carving his own path in the jazz trombone lineage. A refreshing album that won't disappoint.
Recording previews and purchasing information can be found at Outside In Music.