Recordings
Give It All You Got: A Review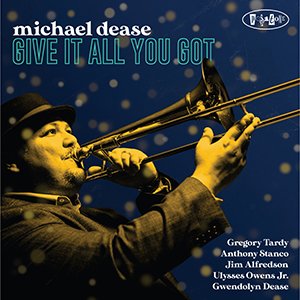 Give It All You Got. Michael Dease, trombone; Anthony Stanco, trumpet and flugelhorn; Gregory Tardy, tenor sax; Jim Alfredson, organ; Ulysses Owens Jr., drums; Gwendolyn Dease, congas and triangle; Brooklyn Dease, percussion (6); Luther Allison, drums; Sharel Cassity, alto sax; Randy Napoleon, guitar. Posi-Tone Records, PR8217, 2021. Compact disc and digital media, 58 minutes. A Sliver Of Silver (Michael Dease), The Next Level (Michael Dease), Parker's Fancy (Luther Allison), Word To The Wise (Michael Dease), Dave's Boogie-Down (Jim Alfredson), Ritmo De Brevard (Michael Dease), Lake Toxaway Getaway (Jim Alfredson), Zanderfied (Michael Dease), Climb The Mountain (Anthony Stanco), Transylvania County Funk Parade (Michael Dease).
With a wide array of musical gestures full of soul-stirring grooves, sentimental statements, and just plain good times, Give It All You Got wholly represents Michael Dease, his music, and his discernible life philosophy. In addition, with this latest album, one can hear the next stage of Dease's musical evolution as encompassing not only his signature virtuosic prowess and profound melodic and harmonic understanding, but also the elusive nuances and spiritual perception of what it means to be a jazz musician.
The instrumentation, which replaces the piano and bass with the masterful organ playing of Jim Alfredson, is not typical for a jazz setting, yet it is not uncommon. On Dease's Sliver Of Silver, one can hear allusions to the hard bop pianist Horace Silver, with the testimonial horn lines and soul-jazz groove, tinged with a blues and bebop dialect. Dease's solo exudes the understated excitement of a jazz master, with each phrase released as if existing in four-dimensional space - already complete. Tenorman Greg Tardy begins by dipping his toe in the musical environment before jumping right in to join the seductive groove with his soulful and impeccable lines. Anthony Stanco follows with a trumpet solo that exquisitely captures the vocabulary of both the latin and bebop traditions. Alfredson's solo generates some real funky stank, in terms of melody, harmony, grit, and most importantly, groove - all while holding down the bass line.
The Jazz Crusaders come to mind on The Next Level (Dease) - unison horn lines, driving swing, soul, and fusion. The form and harmonic structure are what jazz musicians might refer to as a "minor" rhythm changes, but with an interesting addition to the second chorus of the solo section reverting to the definitive "major" rhythm changes (chord progression). The blowing includes wonderful bop and blues utterances by all, with some witty quoting of jazz classics. Luther Allison's Parker's Fancy has a catchy, Milestones-esque vibe with hip, in-the-pocket playing throughout. Dease's Word To The Wise is a toe-tapping, finger-snapping, stank-face composition, with a splash of Stevie Wonder and even Roy Hargrove.
Alfredson's Dave's Boogie-Down long-form blues is akin to the jazz fusion classics of Horace Silver, Lee Morgan, Herbie Hancock, and Joe Zawinul. The collective improvisation which ends the tune is especially momentous. With Ritmo De Brevard, the echoes of Brazilian jazz trumpeter and flugelhornist Claudio Roditi can be heard. Evocations of suspense, beauty, and a dash of poignancy, are all packaged in a song one can dance to with their beloved. Through the serene vibes of Lake Toxaway Getaway (Alfredson), one can imagine pleasant landscapes and lovely memories, with a waltz groove that lets the music float. Nostalgia is the buzzword here.
Zanderfied (Dease) has parallels to Benny Golson's Killer Joe with its chill, energetic atmosphere. The title and music give the sense of an effect a particular personality type has in positively impacting your life just by being in their presence. The clever arranging also makes the group sound like a small big band. Stanco's Climb The Mountain tells a very emotional and heavy-hearted story of adversity, almost as if being told during the altar call of a gospel church service. The ending is peaceful and resolute. Transylvania County Funk Parade (Dease) appropriately concludes the album with a funky groove blues, analogous to the soul jazz tunes of Horace Silver's Jody Grind and Lee Morgan's Sidewinder. Tasty riffs, melodies, and blues language spoken throughout.
This album is for the listener who wants to experience jazz which is accessible, jam-packed with modern bebop, blues, and gospel playing from top-tier musicians.
Sound clips and purchasing information for Give It All You Got is available at Posi-Tone and Apple Music.