Recordings
Sapphire: A Review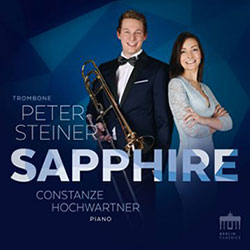 Sapphire, Peter Steiner (trombone) and Constanze Hochwartner (piano). Berlin Classics 0301298BC, 2019. Compact disc and digital media, 54 mins. Tracks: "Rondo Alla turca (from Mozart's Piano Sonata no. 11, K331, arr. Markel); "Somewhere," (from "West Side Story,", Bernstein, arr. Markel); "Hora Staccato," (Dinicu, arr. Markel); "Che gelida Manina," (from "La Boheme,", Puccini, arr. Ferro); "Fly or Die," (Rocha); "Parla piu piano," (from "The Godfather,", Rota arr. Wise); "Fantasia Concertante," (Molla); "Liebesfreud," (Kreisler); "Arrows of Time," (Peaslee); "Nana," (No. 5 from "7 Canciones populares espanolas," Falla, arr. Markel).
My Concise Oxford Dictionary defines a sapphire as a 'precious stone' - this recording is appropriately named. Firstly, the performers on display are extremely impressive. The Italian trombone soloist, Peter Steiner, has a superb pedigree. Among many other things, he has studied at the Salzburg Mozarteum and Juilliard School, with teachers such as Joe Alessi and Nitzan Haroz. He has played with numerous top-tier orchestras, including the Vienna Philharmonic and the Vienna State Opera. Steiner recently won a prize at the 2019 International Tchaikovsky Competition and he has a blossoming international career as a concert soloist and recitalist. In the latter role, he has been one half of the Duo Steiner-Hochwartner (which is featured on this recording) since 2017. The other half of the collaboration is the organist/pianist, Constanze Hochwartner. The holder of a master's degree from the University of Music and Performing Arts in Graz, Hochwartner has made a name for herself as an international organ soloist in addition to touring several continents with the Duo Steiner-Hochwartner.
Although the total length of this CD is only 54 minutes, Steiner crams in a very wide range of repertoire, from Andrew Markel's slightly tongue-in-cheek ragtime take on "Rondo Alla Turca" to slow expressive pieces such as "Somewhere" from "West Side Story," Puccini's "Che gelida Manina," Falla's "Nana" and Rota's "Parla piu piano" from "The Godfather." He also includes arrangements of flashy violin showcases like "Hora staccato" and "Liebesfreud" - before confronting the sometimes extreme virtuosity of modern but highly accessible pieces such as Rocha's jazzy "Fly or Die," Molla's substantial "Fantasia Concertante" and Peaslee's Rosolino-influenced "Arrows of Time."
It is difficult to find fault with this recording, which has been beautifully produced. There are so many highlights in Steiner's trombone playing (which is rarely anything less than world-beating) that it seems a shame to single out anything in particular. However, his rendition of the slower pieces is controlled, fluid and with tasteful and varying modulations of legato and vibrato. Che gelida Manina begins with a beautiful and arresting imitation of the human voice which is enough on its own to recommend this disc. Steiner's rapid slide technique and multiple tonguing-such as in the final section of "Arrows of Time" or in the Rocha "Fly or Die" - are amazing, and his ornamentation (such as the trills in the Kreisler or Rocha pieces) feels natural and appropriate. Huge leaps happen nimbly (for example in the Mozart arrangement or the Rocha) and the extremes of range are exploited confidently, beautifully and, in some cases, flamboyantly. Although much of this music is virtuosic, the listener has no feeling that it is a trombone struggling with almost impossibly agile material; instead, the performance almost always seems easy and assured. Even in the most difficult passages, one could almost forget that the soloist is a trombonist. This allows us to enjoy the music itself, with hardly any distraction from technical issues.
Steiner has excellent assistance from Hochwartner, who is especially impressive in her sensitive and sometimes poised manipulation of atmosphere, most notably in the ostinato accompaniment of Falla's "Nana". This is definitely a high-class performance from both members of the Duo Steiner-Hochwartner.
It should now be clear why, at the beginning of this review, I stated that this is a jewel of a recording. It certainly stands comparison with any of the many solo CDs I have in my own library. I recommend this extraordinary performance to all trombonists-as well as to anyone who loves music. Steiner and Hochwartner are an outstanding duo. We hope to be hearing a great deal more from them in the future.
Recording previews and purchasing information can be found at Apple Music and Spotify.