Recordings
Bonegasm: A Review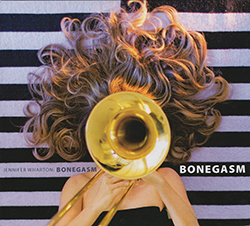 Jennifer Wharton: Bonegasm. John Fedchock, Nate Mayland, Alan Ferber, trombone; Jennifer Wharton, bass trombone; Michael Eckroth, piano; Evan Gregor, Bass; Don Peretz drums; Mauricio Herrera, percussion (track 1). 2019 Sunnyside Communications, Inc. SSC 1530. 56 minutes. The Year of Two Summers, Edward Perez; Low Ball, Jim McNeely; Stellar, Nate Mayland; North Rampart, Alan Ferber; Softly as in a Morning Sunrise, Romberg/Hammerstein, arr. John Fedchock; Other Angels, Sara Jacovino; Tricotism, arr. John Fedchock;, Oscar Pettiford; Impromptu, Dave Eshelman; Big Long Slidin' Thing, Thomas/Kirkland, arr. John Fedchock.
What is Bonegasm? A joyful romp! Or as Jennifer Wharton says, "a climax of musical excitement, characterized by feelings of pleasure centered in the ears and experienced as an accompaniment to hearing a group of trombone players." Released in 2019, this recording has garnered positive reviews and accolades including a #18 spot on the Billboard Jazz Chart.
Four trombones with rhythm section give ample room for creative harmonies, twisty writing, melodic variety, and burning improvisation. Wharton has many key moments to shine as the focal point. On top of the masterful solo playing displayed by each member of the group, one of the most enjoyable aspects of this recording is the tight section playing. A driving force is the crisp snap of the bass trombone which at times sets up the higher voices with a kick! "Low Ball" is one example of this musical counterpoint.
"Softly as in a Morning Sunrise" features Jennifer laying down a meaty cadenza before the tune begins. Arranged by John Fedchock, the melody is delivered in angular fashion, harmonized by all four trombones. Different grooves span this track including Latin, straight-ahead, and a floaty feel propelled by a repeated pattern in the rhythm section. Solo time is given to the three tenor players on this track.
Sara Jacovino contributes a haunting composition, "Other Angles" to this project. Here, pianist Michael Eckroth contrasts the heft of the trombone section with ethereal textures and a shimmering solo. "Impromptu" is a track that showcases the technical capabilities of a virtuoso bass trombonist. In this arrangement by John Fedchock, Jennifer covers a lot of slide mileage as she navigates tricky melodic writing. (Bass trombonists will love the perfect ending to this song as Jennifer cranks her way down to the basement with a bite!) Rounding out the recording is "Big Long Slidin' Thing," sung by Wharton.
Throughout the entirety of this album, Fedchock, Mayland, Ferber, and Wharton deliver tasty playing that will delight trombone aficionados. This is a meaningful offering with plenty of depth and variety. Bonegasm sets the stage for more recordings and performances from this outstanding ensemble!
Sound clips and purchase information for Bonegasm is available through Jennifer Wharton's web site.