Recordings
Benedetto Marcello and Johann Ernst Galliard Sonatas: A Review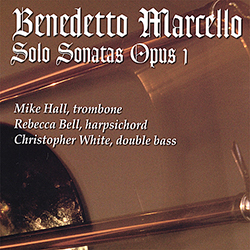 Benedetto Marcello: Solo Sonatas, opus 1. Mike Hall, trombone; Rebecca Bell, Harpsichord; Christopher White, double bass. Old Dominion University 2007. Compact Disc ODU 3664. Total time: 48:45. Benedetto Marcello, arranged by Mike Hall: Sonata no. 1 in F major, Sonata no. 2 in E minor, Sonata no.3 in A minor, Sonata no. 4 in G minor, Sonata no. 5 in C major, Sonata no. 6 in G major.
Johann Ernst Galliard: Six Sonatas. Mike Hall, trombone; Thomas Marshall, harpsichord; Christopher White, double bass. Old Dominion University 2014. Compact Disc ODU ODU 0876. Total time: 56:22. Johann Ernst Galliard, arranged by Mike Hall: Sonata no. 1 in A minor, Sonata no. 2 in G major/E minor, Sonata no. 3 in F major, Sonata no. 4 in E minor, Sonata no. 5 in D minor, Sonata no. 6 in C major/C minor.
For a number of reasons, trombonists have long struggled to find a great deal of high-quality and satisfying original repertoire for their instrument. Instead, they have seized upon arrangements of music for other instruments or for voice. Quite a few of these 'borrowings' have been taken from the world of the baroque violoncello, which has a range roughly corresponding to that of the modern trombone. This is the case with the collections of sonatas on these two CDs - although the Galliard sonatas were intended for either bassoonists or cellists. Both the Marcello and the Galliard groups of pieces are often to be found on examination and recital programmes. The edition of the Galliard sonatas commonly played by trombonists today is that of John Clark, published by Hinrichsen. The Marcello sonatas are often heard in the edition by Brown or Ostrander and published by IMC. Both groups of publications are rather bare, though; in particular, they have few indications of the ornamentation which characterised and enlivened baroque performances. In other words, although some good results can be obtained using the standard editions, something is missing.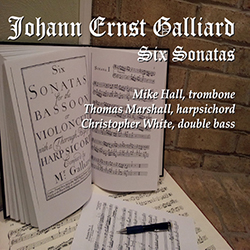 That 'something' is present in abundance in both these recordings. Trombonist Mike Hall has produced his own new performance editions of both the Galliard and Marcello collections - editions which, especially in the numerous repeats, include plenty of decoration and elaboration. This transforms both collections - which now bristle with trills, mordents, turns and so on - into very exciting and virtuosic tours de force. In these, repetition is eagerly anticipated by the listener (as it was in the eighteenth century) rather than very slightly tedious. There is also considerable scope for expressive, lyrical playing, especially in the slower movements - an often underrated aspect of baroque music.
One could say that Mike Hall's editing causes the pieces to come surging back to life, but on these discs, this is also aided by his impressive solo playing. Although Hall plays a modern trombone (rather than a sackbut) on these recordings, there is still plenty of authenticity in every sonata. Indeed. there are lots of examples of the kind of supple, fluid, improvisatory and virtuosic playing we are used to hearing today from specialist sackbut players such as Emily White and Adam Woolf. It is also very clear that Hall's technique is more than equal to the challenge of his new editions. He copes well with their massive demands on his stamina, flexibility, range, dexterity, tone and stylistic variation; one occasionally forgets that he is playing the slide trombone, as the instrument's limitations seem to dissolve. Although some of Hall's ornamentation is not always to this reviewer's taste (for example, schooldays playing 'The Acrobat' have given me a lifelong aversion to even occasional glissandi, no matter how appropriate) his musical decisions are almost always interesting and justifiable. The use of a harpsichord accompaniment (rather than, say, an organ) was potentially problematic with regard to balancing with the modern trombone. However, with the addition of Christopher White's double bass (and, also perhaps, with some clever work by the recording engineer) this is 'not an issue on either disc - though I should say that I slightly prefer the sound on the Galliard, where the trombone is a little more present.
I would recommend these recordings to anyone interested in the trombone - or to musical enthusiasts in general. It is truly revelatory, underlining the trombonist Mike Hall's considerable abilities, showcasing some of the many qualities of our beloved instrument and demonstrating the sometimes underrated compositional qualities of Galliard and Marcello. Mike Hall's scholarly and informative performing edition of the Galliard sonatas and Marcello Sonatas 1-3 and Sonatas 4-6 are available from Cherry Classics of Vancouver.
Sound clips and purchase information for the Galliard and Marcello Sonatas are available at the iTunes Music Store.