Recordings
Preludes, Rags and Cakewalks: A Review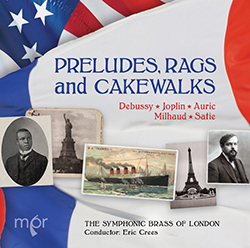 Preludes, Rags and Cakewalks: Debussy, Joplin, Auric, Milhaud, Satie, The Symphonic Brass of London, Eric Crees, conductor. MPR Records, 2020. Compact Disc. Total Time 77:14. Swipesy - Cake Walk, Scott Joplin & Arthur Marshall; Golliwogg's Cakewalk, Claude Debussy; The Strenuous Life - A Ragtime Two Step, Scott Joplin; Rag Time Parade, Eric Satie; Solace - A Mexican Serenade, Scott Joplin; La Puerta del Vino, Claude Debussy; Rag Caprice No. 1, Darius Milhaud; Minstrels, Claude Debussy; La fille aux cheveux de lin, Claude Debussy; Adieu, New York!, Georges Auric; Searchlight Rag - A Syncopated March and Two Step, Scott Joplin; Des pas sur la neige, Claude Debussy; La Diva de L' Empire, Eric Satie; Le Petit Nègre, Claude Debussy; Weeping Willow - Ragtime Two Step, Scott Joplin; Hommage à S. Pickwick Esq. P.P.M.P.C., Claude Debussy; Rose Leaf Rag - Ragtime Two Step, Scott Joplin; Le Piccadilly, Eric Satie; Bethena - A Concert Waltz, Scott Joplin; Général Lavine - eccentric, Claude Debussy; Stoptime Rag, Scott Joplin
At first blush, the recent release of Preludes, Rags and Cakewalks, conducted by Eric Crees, might seem like an album of encores, or a collection meant for light listening. But this compact disc is much more.
Arrangements of favorites from Claude Debussy, plus selections by Eric Satie, Darius Milhaud, and Georges Auric, carefully positioned alongside and around those of certain lesser-known yet quite substantial works of Scott Joplin, convincingly demonstrate something that is quite special and warrants widespread hearing. It's persuasively audible, thanks to Preludes, Rags and Cakewalks, that just before and after the Great War, French musicians had recognized the artistry and innovation of America's first true original classical music - ragtime. The opening juxtaposition of Swipsey - Cakewalk, Golliwog's Cakewalk, The Strenuous Life, and Rag Time Parade immediately makes this connection crystal clear. And the linkage of Joplin's Solace - A Mexican Serenade with Debussy's La Puerto del Vino definitely demonstrates that both creative composers took inspiration just outside their own countries' borders. Before jazz would inspire so very many French composers in the 1920s, the vigorous richness and expansive sophistication of American ragtime, as well as nearby Spanish sources, already had captured their attention.
Among the other tracks, six others stand out for different reasons. Joplin's Weeping Willow - A Ragtime Two Step, and especially his Bethena - A Concert Waltz, reveal unsuspected lyrical gifts projected in Eric Crees' imaginative arrangements for brass and percussion. Debussy's humor comes through in the settings of his Hommage à S. Pickwick Esq. P.P.M.P.C. (which caricatures a Dickens character) and his Général Lavine - eccentric (inspired by an American vaudevillian who performed in Paris), which present a palpable physicality of the seemingly larger-than-life personae they portray. And Auric's Adieu, New York!, as well as Satie's Le Piccadilly, surely illustrate how open-minded and well-travelled French composers were in the early twentieth-century. New perspectives provided here readily elicit new appreciation of this vibrant music.
Of course, it's easy to imagine other selections that could complement these fine choices. For instance, adaptations of Gabriel Fauré's energetic Le pas Espagnole, from the Dolly suite, his exotic Air de danse from the incidental music to Caligula, or even his elegant fourth Prélude might have fit well here too. Hmmm... why not a Fauré set in the next Symphonic Brass of London release?
Crees' arrangements of this early 20th-century music, most originally for solo piano, re-imagine each within the brass domain via flexibly shifting configurations, creating intriguing and evolving effects of timbre, texture, and spatiality. Above all, rhythmic vitality, even in the slower works, dominates Preludes, Rags and Cakewalks. Of course, bringing all of this to life is the inspired playing of the Symphonic Brass of London, whose members include James Fountain (piccolo trumpet), Chris Deacon (piccolo trumpet), Paul Archibald (trumpet), Katie Smith (trumpet), Bruce Knockles (flugelhorn, trumpet), Hugh Seenan (horn), Christopher Houlding (trombone), Simon Wills (trombone), Nick Lloyd (trombone), Christian Jones (bass trombone), Adrian Miotti (tuba), Scott Bywater (percussion), and Jonathan Kitchen (percussion). Recorded at 24/96 resolution (hi-res audio), the CD's sound has brilliance and impact, plus considerable presence.
While Online Trombone Journal readers may find these percussion-augmented arrangements of Joplin, Debussy, and the other French composers to be engaging concert features as well as exciting encore options, they also are apt to discover that many may serve as effective teaching pieces. Their incisive syncopations, contrasting dynamics, and divergent modulations require extremely precise ensemble and exceptionally careful intonation, so university troupes are sure to benefit as well as enjoy. Brass Wind Publications may be releasing the arrangements individually as soon as the late summer of 2020, so interested directors and performers might start with the CD, which is available through MPR and is distributed widely. Recommended!
Sound clips and purchasing information can be found at Willowhayne Records.