Recordings
Spectacular Trombonists: A Review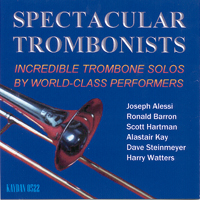 Spectacular Trombonists: Incredible Trombone Solos by World-class Performers (Kaydan Productions 0522, issued 2002). Tracks: Special (Gabaye, arr. Hunt), solo trombone Joseph Alessi, with the Juilliard Trombone Choir, cond. Virginia Allen; Czardas (Monti, arr. Kay), solo trombone Alastair Kay, with The True North Brass; I Loves You Porgy (Gershwin, arr. Grimes), solo trombone Harry Watters, with Janacek Philharmonic, cond. William Grimes; 76 Trombones (Willson, arr. Pilafian and Amis), solo trombone Scott Hartman, with the Empire Brass Quintet; Bride of the Waves (Clarke, arr. Foley), solo trombone Ronald Barron, with the Atlantic Brass Quintet; And We Will Love Again (Williams, arr. Cray), solo trombone David Steinmeyer, with the Airmen of Note.
The material on Spectacular Trombonists certainly lives up to its title. Compiled from a number of previously-issued discs, the six tracks on this CD showcase six virtuoso players at the very top of their form. Five of the pieces performed do, as the liner notes claim, truly test "the limits of the instrument."
Gabaye's Special and Herbert Clarke's Bride of the Waves (the latter a demanding piece even for the cornet, for which it was originally composed) demonstrate the extremely rapid tonguing and slide technique of Joseph Alessi and Ron Barron respectively. 76 Trombones - which is brilliantly accompanied by the Empire Brass Quintet - is a stunning, yet slightly tongue-in-cheek set of Arban-like variations for Scott Hartman. And We Will Love Again features some very high legato playing from Dave Steinmeyer, which is both beautiful and passionate.
However, for this reviewer, the most impressive item in this collection is Alastair Kay's rendition of his own arrangement of Monti's fiendishly difficult Czardas. The opening slow section covers an incredible range - yet in a very controlled way. In particular, it includes some rather impish, very daring and largely successful attempts at violin-like portamento in the extreme high register, as well as some very dexterous rapid slide work which prefigures the immense difficulties of the well-known fast section of the piece. This is very fine trombone playing, with some of the nonchalance of a really great virtuoso. My only slightly critical comment relating to Czardas is one which could be applied to one or two other tracks on this CD. Kay's playing is "spectacular" from the point of view of a trombonist, who knows the difficulties of the instrument. However, a non-brass playing general listener may not make such allowances and may consider that, for example, the higher notes lack a bit of substance.
The Harry Watters Gershwin track is slightly less virtuosic than the others - although Watters plays this beautiful legato arrangement as well as we have come to expect, with excellent tone and vibrato. There is a slight criticism of the recording quality of this piece, though; for this reviewer, the trombone sounds rather distant.
The liner notes for this CD are generally adequate, although not flawless; for instance, more biographical material would have been welcome. One good point is that information about the discs which first featured these tracks is provided. I - and, I suspect, other listeners - will certainly be following up Mr. Kay's recording with The True North Brass.
Available from Hickeys Music Center.
Your browser does not support the audio element.
And We Will Love Again
Your browser does not support the audio element.
Cardas