Literature
The American Trombone: A Review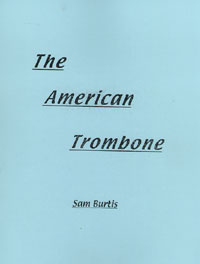 The American Trombone, Sam Burtis.
The American Trombone is a method book that begins where other books stop. It is aimed at the serious student of the horn and not recommended for beginners. The concepts contained therein are based on years of study with the brass instructor Carmine Caruso. Some topics covered in this book include advanced embouchure study, tonguing, range building and slide technique.
Sam Burtis is a New York City based trombonist, composer and teacher with over 25 years experience performing in jazz clubs, recording studios and Broadway pits as well as with The Smithsonian Jazz Masterworks Orchestra, Tito Puente, Charles Mingus, The Lee Konitz Nonet, Chico O'Farrill and the Thad Jones-Mel Lewis Orchestra (now known as the Vanguard Orchestra).
The charter of his book is to produce a total trombone technique that works equally well in American idioms such as Jazz, Pop and the various Afro-Cuban styles, as well as the more traditional Western European orchestral situations. Mr. Burtis provides exercises and examples for the reader, and then explains a system for creating new ones. Also included in the book are entertaining stories and jokes that help to illustrate his ideas.
One item not covered in this book is breathing. Sam acknowledges this in the conclusion chapter and refers to other more established method books for study in this important area. Even given this limitation, The American Trombone is a worthwhile investment for the serious trombonists looking to augment their ideas and approach to trombone.