Recordings
Beautiful Dancer: A Review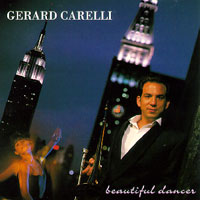 Beautiful Dancer. GC Records, GC001. Gerard Carelli, Trombonist/Composer. Titles: Will You Still Be Mine, Matt Dennis; The Night Has A Thousand Eyes, B. Weisman; I Would Do Anything,A. Hill; Why Try To Change Me Now, Cy Coleman; The Summerwind, J. Mercer; Lullaby In Rhythm, B. Goodman; Beautiful Dancer,G. Carelli; Bobby Darin Medley: Beyond The Sea,J. Lawrence; Artificial Flowers, L. Bock; Mack The Knife, K. Weil; I'm Glad There Is You, J. Dorsey; Headin' For The Hills, G. Carelli; Fly Me To The Moon (In Other Words), B. Howard; Come Fly With Me, S. Cahn.
After listening to this album several times, I will make the bold statement that this is not really a trombone album. Carelli, while being a trombonist, and a skilled one at that, really uses this album to showcase his considerable vocal talents. Carelli offers eleven selections, all but one featuring vocals as well as trombone. This album hearkens back to a time when the trombone was the king of the pop charts; Tommy Dorsey, Glenn Miller, smooth silky lines, vocals and short but melodic solos. Carelli delivers all of these elements with compositions by Cy Coleman, Jimmy Dorsey, Johnny Mercer, as well as medley's of the music made popular by Bobby Darin and Frank Sinatra.
The album opens with a very listenable up tempo arrangement of "Will You Still Be Mine" by Matt Dennis featuring Richie Iacona on piano, Bill Conway on Bass, Tony Tedesco on drums and Ron Affif on guitar. The rhythm section stays constant throughout the album, with Bill Overton on Woodwinds and Carol Pool, Mitchel Stern and Katherine L. Volsi-Stern on violin, joining on various selections. "The Night Has A Thousand Eyes" follows and uses flute and the string section to add a sensuous feel to this classic. "I Would Do Anything" by Alexander Hill follows in a light two feel with the addition of clarinet, and an extended guitar solo by Affif. "Why Try To Change Me Now", is treated as a slow ballad, with a trombone introduction reminiscent of Tommy Dorsey. "The Summer Wind" picks up the tempo slightly as a medium swing tune, and as all the other tunes thus far focuses mainly on Carelli's vocals.
"Lullaby In Rhythm," "Beautiful Dancer," "Bobby Darin Medley," and "I'm Glad There Is You" all feature Carelli's vocals with limited trombone improvisation, and while these songs are somewhat interesting, they stay in the same genre of the previous four selections. Carelli does offer one traditional jazz selection without vocals, "Headin for the Hills," an original that is very stiff and not up to the standard that he has set on the previous selections. Carelli's improvisation on this song seems preplanned and predictable, definitely not what he has offered on the vocal selections on this album. The album ends with a Frank Sinatra Medley of "Fly Me To The Moon" and "Come Fly With Me."
All arrangements on this album except "Beautiful Dancer" are by Ritchie Iacona and, as the liner notes state, he is definitely one of New York's unsung heroes of arrangement. To me the Iacona arrangements are the most outstanding elements on this disc. Carelli has made a very listenable album of vocal standards, with touches of trombone throughout. While an excellent trombonist, Carelli, in my opinion does himself a disservice by not featuring the trombone in a more pronounced way, on selections that he may feel more comfortable on.
Audio clips and ordering information is available at CD Baby: https://store.cdbaby.com/cd/carelli2.