Literature
Pioneers in Brass CD-ROM: A Review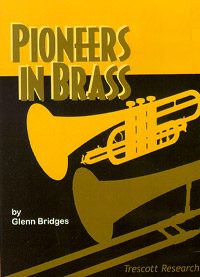 Pioneers in Brass: 2001, Trescott Research. Glenn D. Bridges, Author; Paul T. Jackson, Editor. ISBN 0-916262-05-7
Pioneers in Brass, first published in 1965, is a collection of profiles and photographs of the prominent brass players of the early 20th century. Previously released in three print editions, it is now available on a CD-ROM format that includes original recordings. Paul T. Jackson, nephew of the original author Glenn D. Bridges, produced this electronic digital revised edition from the 1972 collection.
This edition includes 70 profiles of early bandleaders and brass players as well as 45 full-length music selections from the original cylinders and platters. For some of the lesser-known artists in this collection there is little information and few pictures. However, some of the more notable names such as Jean Baptiste Arban, Herbert L. Clarke, Charles Randall, Carroll F. Martin, Jaroslav Cimera, Umberto Corrado and of course Author Pryor have in-depth details and recordings. Upon listening to some of these artists it is easily realized that the greatest advancement in brass music over the past 70- 90 years is not the talent level or even instrument production but rather the recording technology. The Pryor recordings of Fantastic Polka and The Patriot are just a few of many highlights found in this collection.
The software layout is straightforward and easy to navigate. There is nothing flashy or confusing about it. This is a nice departure from many of today's bloated programs. Options include a search by name or phrase tool, the ability to use photos as screen savers and a slide show with variable speeds. All text and pictures can easily be printed directly from the viewing page. This program runs directly from the CD-ROM so there is no installation needed. However the speed at which the content is displayed will depend on your CD-ROM capabilities. Although there is no mention of this procedure in the documentation, for faster performance it would be beneficial to copy the entire contents of the CD to the computer's hard drive and run it directly from there. It is designed to work on any Windows platform and PC enabled Macs. This reviewer personally tested the software on Windows 3.1, 95, 98, 2000 and XP without incident.
The importance of knowing the history behind the pioneers of any profession is essential. For the trombonist it is as important as knowing how to read different clefs. This knowledge can bridge generation gaps and help initiate conversations at any musical gathering. With Pioneers in Brass, Glenn D. Bridges has compiled an invaluable resource and his nephew Paul T. Jackson has bundled it into a modern day collectable that no serious brass musician should be without.