Recordings
To The Sky: A Review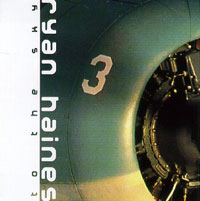 To The Sky, Ryan Haines, Trombonist/Composer/Arranger. Titles: To The Sky, Haines; Good-Bye For Now, Haines; Do You Know What It Means To Miss New Orleans, De Lange & Alter, arr. Haines; Like Lightning, Haines; Beach Assignment, Haines; I Will Wait For You, Gimbel & Legrand, arr. Haines; There's A Letter From Home, Haines; Like Thunder, Haines; The Reunion, Haines; Back To The Blues, Haines.
To The Sky is a big band offering by trombonist/composer/arranger Ryan Haines which depicts a musical perspective of the United States Air Force. This 10 track set, originally conceived as The Blue Sky Suite was designed to appeal to both the general public and fellow musicians. If you are a fan of big bands then this CD will not disappoint. The writing by Haines is fresh and very exiting, with several of the highlights being Like Lightening, a representation of high performance aircraft used by the U.S. Air Force , and Beach Assignment,a musical representation of non-work time during a deployment. Both of the aforementioned charts posses some very unique and original big band composition ideas. The band is tight and I found myself listening with marvel, not only to the melodic lines but to the background figures as well, rarely have I heard a band this tight and precise.
All the soloists are accomplished, with Haines being the standout. Incredibly fluid and melodic, Haines posses a technical ability equaled by few, reminding me of Carl Fontana, which he includes in the liner notes as an influence. Haines solos with the technical virtuosity of Conrad Herwig and utilizes some of the pentatonic phrases found in Herwig's solos, particularily on Beach Assignment and Like Thunder, where Haines takes particularily melodic solos.
The writing on this album is as good as it gets for big band. Haines shows his writing chops by the diversity of his song styles. Burning swing charts like, To The Sky and Like Lightening, a Caribbean flavored Beach Assignment, the pensive and haunting There's A Letter From Home as well as a jazz march introduction to Like Thunder, show that Haines knows his way with the pencil and paper. Haines establishes himself as an arranger on this album as well by putting his touch on Do You Know What It Means To Miss New Orleans, and I Will Wait For You, both are vocal treatments.
This album would be a great addition to both big band composers and trombonists' libraries alike. The only criticism I can make is that with such a great band there are no credits for them in the liner notes, although soloists are mentioned.
More information about Ryan Haines' compositions can be found at E Jazz Lines.