Recordings
Movin' Up: A Review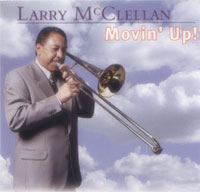 Larry McClellan Movin' Up!. IGMOD Records IGM - 49903 - 2, 1998. IGMOD Records, 855 Village Center Drive, Suite 317, Saint Paul, MN 55127 - 3016.
Larry McClellan, Trombone; Ron Blake, Tenor and Soprano Sax; Donald Brown, Piano; Rueben Rogers, Bass; Adonis Rose, Drums; Pernell Saturnio, Percussion.
Movin' Up
McClellan,
Blue Reggae
McClellan,
Phineas
Brown,
Chip's Tune
McClellan,
Nefertiti
Shorter,
Ronque
McClellan,
There Is No Greater Love
Symes/Jones,
Dancing In Paradise
McClellan,
Flamingo
Anderson/Grouya,
Blue For Brother
Jerome Brown,
Movin' Up
(Reprise) McClellan.
Larry McClellan's album Movin' Up gives the listener an opportunity to hear the writer, educator, administrator and trombonist perform in what is an obviously comfortable setting. McClellan's opens the disc with Movin' Up, an interesting 14 bar modal selection that demonstrates his big sound and his musical concept. As a soloist McClellan is in no hurry to get to his destination. He weaves his melodies until he has said what he wants to say his way. While the nod is in J.J's direction and there are obvious quotes and references to J. J., McClellan can be considered an original in that he sounds as though he comes to his improvisations honestly, he plays the way he hears the music, not just a repetition of the past masters.
Compositionally, McClellan provides six imaginative and interesting selections in the style of the Jazz Messengers. There are, however, unique selections which break this mold, namely Blue Reggae (with the addition of Pernell Saturnino on percussion) and Ronique, where Blake shows his considerable talents on the soprano sax. Donald Brown is the other main contributor compositionally with two selections. The disc is rounded out by the standards There is No Greater Love, Neffertiti (played ala J.J. with no improvisation) and Flamingo made popular by the Duke Ellington Orchestra in the 1930's. Flamingo is played on bass trumpet, showing McClellan's depth and musicality. Flamingo is placed after a particularly intense tune, making its impact stand out as one of the highlights on the disc.
The rhythm section on this disc is truly swinging, they sound as if they have played together for years. Donald Brown of Art Blakey and the Jazz Messengers fame along with Rueben Rogers on bass and Adonis Rose on drums provide excellent accompaniment to Ron Blake (tenor sax and soprano sax), and McClellan throughout the disc. The rhythm section particularly burn on the opening selection Movin' Up and Dancing in Paradise.
The order and selection of songs on this disc takes the listener on a journey, we really get a sense of McClellan's musical ideas and concepts. I did find it odd, however, that McClellan rarely takes the first solo, leaving that up to the piano and sax. Not a big deal, just odd that he makes the listener wait to get to what they really want to hear.
Your browser does not support the audio element.
Flamingo
Your browser does not support the audio element.
Movin' Up