Recordings
Gallery: A Review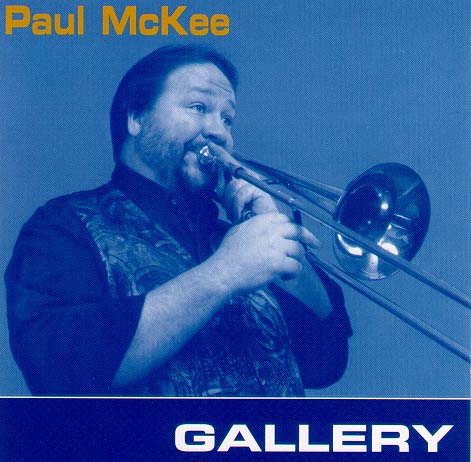 Gallery: Paul McKee, trombone and arranger; Carl Fontana, trombone; Bobby Shew, trumpet and flugelhorn; Tim Ries, soprano and tenor saxophone, alto flute; Ron Stout, trumpet and flugelhorn; Mark Tuttle, tenor saxophone; Louis Stockwell, tenor saxophone; Jerry DeMuzia, alto saxophone; Ron Perrillo, piano; Mike Kocur, piano; Kelly Sill, bass; Larry Kohut, bass; Jim Rupp, drums; Bob Rummage, drums; Joel Spencer, drums; Alejo Poveda, percussion. Hallway CD 9704. Compact disc. Total time 64:34. No Cover; Skid Row; Snowfall; I Remember You; Alone Together; Out Of This World; Little Gus; How Deep Is The Ocean; We'll Be Together Again.
Trombonist, composer, and arranger Paul McKee is perhaps best known for his work with the Woody Herman Orchestra (his trombone playing can be heard on such albums as Woody's 50th Anniversary Tour). Gallery, McKee's first album as a leader, is a long overdue chance for the listener to not only hear McKee stretch out and play some very well-crafted improvisations, but also enjoy McKee's formidable skills as a composer/arranger.
McKee shows many sides to his musical personality by arranging each track for a differently sized ensemble. Utilizing many world-class musicians, trombonist Carl Fontana and trumpet player Bobby Shew being two of the most notable, McKee puts just the right combinations of musical personalities together to make each track sound unique. Every musician on this album deserves mention for strong playing, but in addition to Fontana and Shew, trumpet player Ron Stout, pianist Ron Perrillo, and saxophonist Tim Ries with very fine performances on this album.
As a trombonist, McKee's fondness for Carl Fontana's style is obvious, especially on the two tracks that Fontana joins McKee on. McKee's own unique voice comes through very well, however, especially on his own compositions. The excerpt from McKee's solo on his composition No Cover gives the listener a good idea of his strong melodic approach, dark tone, and very capable technical command of the trombone.
As mentioned, McKee's writing skills are also very creative on this album. Six of the tracks on this album are standards that McKee reworks to make them sound as if they were composed today. His arrangement of I Remember You reworks the classic composition through clever reharmonizations, rhythmic embellishments, and phrase extensions. McKee's original compositions utilize a variety of compositional techniques, including 12 tone serialism on his composition Skid Row.
In closing, Gallery offers an excellent sample of the too long overlooked talents of Paul McKee. Hopefully this debut album will expose more people to McKee's music and we will be able to hear much more from him in the near future.
Your browser does not support the audio element.
No Cover
Your browser does not support the audio element.
I Remember You