Literature
Grand Chorus in Dialogue and Praise to the Lord, the Almighty: A Review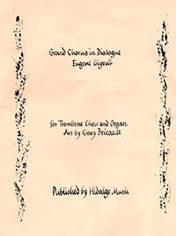 Grand Chorus in Dialogue Eugene Gigout, arr. by Gary Bricault. Hidalgo Music, 1997. 4'55". Praise to the Lord, the Almighty setting by Gary Bricault. 1997. 4'00".
Arranged for ten-part trombone choir, both of these arrangements by Gary Bricault provide the ensemble and conductor with a number of musical challenges that once met will yield to a satisfying musical experience.
The first work is a transcription of Eugène Gigout's Grand Chorus in Dialogue. Gigout was a pupil of Saint-Saëns at the Ècole Niedermyer in Paris. It is interesting, if only for trombonists, to note that Gigout succeeded Guilmant as Professor of Organ at the Paris Conservatory in 1911.
In addition to ten trombone parts, the Grand Chorus also calls for organ as well as timpani and crash cymbals. Bricault has taken the organ score and transcribed it into a dialogue between trombones and organ, hence the title. The trombone choir contains ten voices divided into two choirs, each containing one alto part, three tenor parts, and one bass part. The first and sixth parts are in alto clef, all others are in bass clef. This work requires your alto players to have a e2 in their pocket amidst a fairly high tessitura. Bass trombonists will touch upon two pedal GGs, while spending most of their time between low D and Bb.
The overall dynamic of the piece is forte to fortissimo. There are rapid passages of sixteenth notes for each part (at quarter = 88). Be sure to acquire the services of an excellent organist! The extended organ solo in the middle section will allow him or her to shine and allow your ensemble to catch their breath.
The most significant challenge in performing this work will be in negotiating the very thick textures. Many of the lines are doubled and occasionally major and minor thirds are scored quite low in the register. This will be particularly troublesome in tutti sections. Good ears, crisp articulation, and unfailing rhythm will be required to make this grandiose piece work.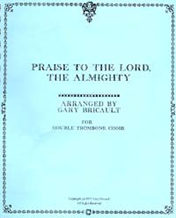 Praise to the Lord, the Almighty also features heavy doubling spread across two choirs. This piece calls for two choirs with the same instrumentation as the previous work (alto, 3 tenors, bass).
While much of the work follows the standard harmony used in most hymnals, Bricault takes the opportunity to include several fanfarish transitions and key shifts between verses. A contrasting middle section features some pleasant counterpoint against the hymn tune.
Alto parts, which ascend to a bb1 and camp out there, are playable on tenor instruments, while the lowest parts will work with trombones of the one-trigger variety. As with the previous work, close attention to clarity of texture will be paramount to a successful performance.