Recordings
Art of Fugue: A Review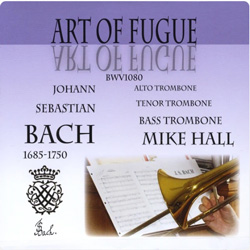 Art of Fugue. Mike Hall (alto, bass and tenor trombone). CD Baby 2010. Compact disc and digital media, 82 minutes. Tracks: Chorale: "Vor deinen Thron tret' ich hiermit" (Before Thy Throne I Stand), "Contrapunctus 1", "Contrapunctus 2", "Contrapunctus 3", "Contrapunctus 4", "Contrapunctus 5", "Contrapunctus 6 a 4 in Stile francese", "Contrapunctus 7 a 4 per Augmentationem et Diminutionem", "Contrapunctus 8 a 3", "Contrapunctus 9 a 4", "Contrapunctus 10 a 4", "Contrapunctus 11 a 4", "Contrapunctus 12 a 4", "Contrapunctus 12 a 4 inversus", "Contrapunctus 13 a 3 rectus", "Contrapunctus 13 a 3 inversus", "Canon alla Ottava", "Canon alla Decima", "Contrapunto alla Terza", "Canon alla Duodecima in Contrapunto alla Quinta", "Canon per Augmentationem in Contrario Motu", "Fuga a 2 Clavier, Alio modo", "Fuga a 2 Clav", "Fuga a 3 Soggetti".
While some artists seek to continue the trajectory of modern music and achieve forward progress, others look to the past to find inspiration for new interpretations. For trombonist Mike Hall, his window into the past led him to the music of Johann Sebastian Bach, often seen as the master of the Baroque Period and one of the greatest composers to ever live. One of Bach's strongest genres of composition was counterpoint, filling the 18th-century churches with polyphonic layers of organ music. Mike Hall has taken Bach's collection of organ fugues, The Art of Fugue, BWV 1080, and adapted them into his own layers of trombone polyphony in his 2010 album Art of Fugue.
What stands out right away is Hall's precision with which he performs. Hall is performing all four layers of Bach's music himself, recording one layer on bass trombone, two layers of tenor trombone, and one of alto trombone. Recording each layer individually presents a challenge of understanding intonation between each part, and Hall achieves this harmonic balance expertly. Each track also interprets shifts in tempo, but, even when listening at a reduced speed, it's remarkable to hear no deviations between each part. Hall has achieved a fantastic and advanced musical display, resulting in an album that sounds like it was recorded by a live quartet of trombones.
While the music is a note-for-note adaptation of Bach's works, Hall decided to shift the overall tonality down a step from D to C in order to better suit the range and capabilities of the trombones. This, along with his musical interpretations of the source material (dynamics, trills, etc.), achieves a feeling of freshness, bringing new life into the music of Bach.
There is plenty of variety within each track to satisfy all audiences. Track seven, which is movement six of Bach's Contrapunctus, features very sudden and broken brisk phrases. This contrasts with the emotional beauty of the opening chorale, "Vor deinen Thron tret' ich hiermit" (Before Thy Throne I Stand). Perhaps the most impressive technical feat is the relentlessly chaotic "Canon alla Ottava," whose brisk compound meter demands an advanced technical prowess across all voices. Over the 80-minute runtime of the album, there is a lot of musicianship to appreciate as Hall dances through all of it with ease.
Overall, Art of Fugue is proof that the music of over 250 years ago can still sound fresh and new with the right artist and interpretation. Mike Hall brings trombone repertoire back into the 18th century, inspiring his audience to join him in this album of old-meets-new. While other artists may be looking forward, Hall proves that there is still much to be learned by looking back.
Recording previews and purchasing information can be found at Apple Music and Spotify.