Literature
Musikverlag Bruno Uetz Music for Brass: A Review
Winninghoff, Christian. Easy Pop and Jazz Quartets. Bruno Uetz, Germany. 2019. 36 pages. ISMN 9790206401930.
Gershwin, George. I Got Rhythm, arranged by von Ernst-Thilo Kalke. Bruno Uetz, Germany. 2017. Score and Parts. ISMN 9790206400872.
Schneider, Daniel Wum. Himmelstrio. Bruno Uetz, Germany. 2014.Score and Parts. ISMN 9790501469345.
Finding a variety of chamber ensemble repertoire can be difficult for brass players who aren't in a quintet. Thanks to Musikverlag Uetz Music, there are now several new options available depending on your group's makeup and ability.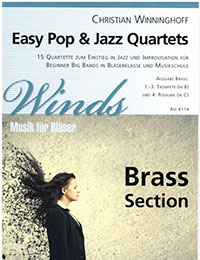 The first publication is a collection of 15 short pieces by Christian Winninghoff called Easy Pop & Jazz Quartets. The book is designed for ensembles consisting of three trumpets and one trombone. Winninghoff does a great job of incorporating a variety of concepts for students playing at a junior high/high school level, including the 1940's heavy swinging style in "Big Bandits," a classic bossa nova style in "On the Beach," and introducing the popular Dorian mode in "New Mode." Each of the 15 pieces is short and to the point, making them ideal as teaching tools in the classroom when introducing new concepts. They would also work well in a district music contest setting, which is something band directors always need more music for. Easy Pop & Jazz Quartets works great for beginner big band students who want to learn more about how diverse the world of jazz can be!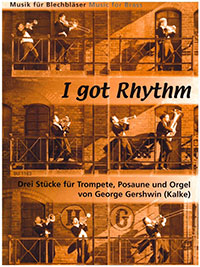 The second new publication from Musikverlag Uetz Music is I got Rhythm, a series of three short arrangements of popular George Gershwin tunes for trumpet, trombone, and either piano or organ by Ernst-Thilo Kalke. These three arrangements are slightly more difficult than the pieces in Winninghoff's book due to their higher range demands (particularly in the trumpet parts), so they would be suitable for intermediate students at the high school level. Kalke's collection features three Gershwin classics: "I Got Rhythm," "Theme from Rhapsody in Blue," and "Swanee." While each arrangement is a separate piece, the three flow smoothly in a classic sonata form of fast-slow-fast, allowing the performers to potentially use all three together for one performance. Having the option to perform on piano or organ is a nice touch, though the three staves of the part are entirely independent, requiring the performer to combine the bottom two lines if performed on piano. Overall, I got Rhythm is a fun collection of recognizable tunes arranged in a quality fashion, ensuring an enjoyable performance by musicians and audience members alike.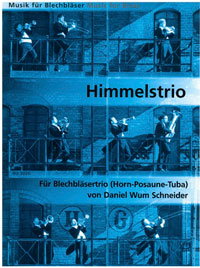 The third and final new publication from Musikverlag Uetz Music is Himmelstrio, which is the subtitle of Daniel Wum Schneider's first trio for horn, trombone, and tuba. Schneider's piece is significantly more difficult than the previously mentioned publications and is certainly intended for advanced college students or professionals due to significant demands of rhythm, technique, and style. This through-composed trio is programmatic in nature as it represents various emotional attributes of heaven: liveliness, calmness, power, sorrow, and joy. Each of these aspects is represented by a different musical element; the opening lively melody dances across various meter changes at a brisk pace, power is represented by drastic shifts in dynamics for impactful chords, and the joyful laughter comes to life in an upbeat polka to bring the piece to its conclusion. Himmelstrio is a wonderful piece and should be sought-out by musicians seeking more programmatic music for their repertoire who don't want to deal with those pesky trumpets!