Recordings
Emergency Vehicle Blues by The Big Bad Bones: A Review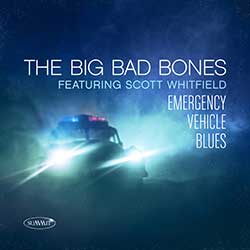 Emergency Vehicle Blues. The Big Bad Bones: Scott Whitfield, Brett Stamps, Pete Madsen, and Steve Wilson trombone; with Ben Tweedt, piano/keyboard; Mark Haar, bass; and Doug Montera, drums. 2020 Summit Records, 768 2020. CD and digital media, 58 minutes. All charts composed by Brett Stamps: Emergency Vehicle Blues, Terminal Hype, Eulogy, Kim's Whim, Ethanology, Adam's Awesome Funk, Rebirth: Hope Springs Eternal, Baylor's Boogie, Lula Look, Flo Jo Express.
When you call your group the "The Big Bad Bones," there's an expectation for some major grooves and tons of fun. That expectation is met and then some with this jazz trombone quartet in Emergency Vehicle Blues.
The Big Bad Bones consists of four excellent trombonists: Scott Whitfield, Brett Stamps, Pete Madsen, and Steve Wilson. The quartet is backed up by a rhythm section featuring Ben Tweedt on piano/keyboard, Mark Haar on bass, and Doug Montera on drums. All ten of the tracks on Emergency Vehicle Blues are written by Brett Stamps and represent a variety of emotions and people in his life: Ethanology, Adam's Awesome Funk, Baylor's Boogie, and Lula Look are all named after his grandchildren, and Kim's Whim is named after his wife.
Possibly the most impressive aspect of this album is the nature of how/when it was recorded. The quartet rehearsed over the course of one week in the evenings during an annual jazz camp held at the University of Nebraska Omaha (UNO). After a busy week of camp festivities and rehearsing, they recorded all ten tracks the following weekend. Accomplishing a tight-knit and swaggy sound like this given the circumstances illustrates just how talented this 7-piece ensemble is!
If it isn't clear yet, I'll reiterate the fact that Emergency Vehicle Blues is FUN. Coming in at just under an hour, there isn't a dull moment throughout the listening experience. A lot of that can be credited to Stamps' compositions; he incorporates a ton of variety from track to track. Whether it's the humorous opening title track, the fast-paced section play of Ethanology, the heavy grooves of Adam's Awesome Funk, or the emotional ballads like Eulogy and Rebirth: Hope Springs Eternal, it's nearly impossible to keep from nodding along with the rhythms.
The musicianship of the trombonists deserves a lot of love here, too. Not only do the members of the quartet sound like one cohesive unit when playing together, but each of the tenor trombonists has the opportunity to share their individual voices in the solo sections. Scott Whitfield shows off some impressive technical prowess any time he takes a solo, a highlight being his performance in the funky Terminal Hype. Brett Stamps' bright tone and fun licks in Baylor's Boogie illustrate the joy he must have felt performing his own compositions with a group like this. Contrasting Stamps is the lyrical beauty behind Pete Madsen's solo in Eulogy.
While this is an album featuring four talented trombonists, the rhythm section understands the feel of each chart and brings a lot to the table. All three of the rhythm musicians get their chance to shine in solos, especially pianist Ben Tweedt. Hearing a piano or bass solo take over with the trombones playing background melodies offers even more variety to the experience and helps the album feel well-rounded. Plus, who doesn't love a good drum solo to end a chart?
By the time the album came to a conclusion when I first listened to it, I immediately hit the replay button and started the jam session over again. Emergency Vehicle Blues is just that kind of album. The variety of jazz styles, the level of musicianship, and the pure bliss felt while listening to this makes for an hour well-spent. The pure-blooded Nebraskan in me (shoutout Wayne, America) also takes pride in hearing a product like this coming from Omaha. If you're a trombone player, a jazz musician, or just somebody looking for a good time, track down this recording by The Big Bad Bones as soon as possible. You won't be disappointed!
Emergency Vehicle Blues is published by Summit Records, where you can find sound clips and purchasing information.