Recordings
Eternal Gratitude: A Review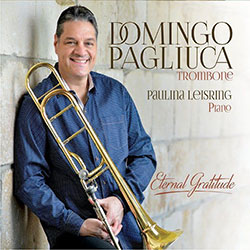 Eternal Gratitude, Domingo Pagliuca, trombone; Paulina Leisring, piano; Jorge Glem, cuatro; Rodner Padilla, bass; Ernesto Laya, percussion; Diego Alvarez, cajon; Boston Brass Quintet; Big Band Jazz de la Americas. Domingo Pagliuca, 2019. Compact disc and digital media, 63 minutes. "A la Manière de Debussy," Jean-Michel Defaye; "Pavane pour une infante défunte," Maurice Ravel, arr. Domingo Pagliuca; "A la Manière de Stravinsky," Jean-Michel Defaye; "Sang Till Lotta," Jan Sandström; "A la Manière de Vivaldi," Jean-Michel Defaye; "A la Manière de Brahms," Jean-Michel Defaye; "A la Manière de Schumann," Jean-Michel Defaye; "The Carnival of the Animals": XIII. The Swan, Camille Saint-Saëns, arr. Domingo Pagliuca; "A la Manière de Bach," Jean-Michel Defaye; "Daybreak," Nicola Ferro; "Blue Bells of Scotland," Arthur Pryor, arr. Domingo Pagliuca; "Trombonology," Tommy Dorsey, arr. Domingo Pagliuca; "Looking Through the Eyes of Love," Melissa Manchester, arr. Domingo Pagliuca; "Contrapunteo No. 1," Carlos Guzmán.
Domingo Pagliuca's 2019 debut solo album, Eternal Gratitude, was first conceived as a musical business card, but resulted in a GRAMMY award winning album and a tribute to a deep personal friendship. Domingo joined the famed Boston Brass in 2013, after having served as Associate Principal Trombone with the Venezuela Symphony Orchestra and having taught throughout his native Venezuela. He was encouraged by his Boston Brass colleague, Sam Pilafian, to pursue a recording project that would reflect who he is as a musician and human being.
What has emerged is a beautiful, multi-faceted recording, displaying a broad range of performance styles, united by one key component: Domingo's exquisite sound.
French composer Jean-Michel Defaye's series of trombone works, "A la manière"... are featured on the disc. Each of the six selections celebrates the stylistic traits of the various composers: Debussy, Stravinsky, Vivaldi, Brahms, Schumann and Bach, respectively. Domingo and pianist Paulina Leisring create a seamless ensemble throughout. An element that really stands out is the clarity and precision of Domingo's articulation. In each of the Defaye works, he expertly adjusts the weight of his attacks to match style of the featured composer.
The last four tracks of the recording offer an array of supporting artists and lighter styles. Domingo is joined by his Boston Brass colleagues in a rousing performance of Arthur Pryor's "Blue Bells of Scotland". It provides a delightful change in texture, as the previous tracks all were trombone and piano. This brass quintet version of Pryor's iconic work is skillfully orchestrated and well balanced. He follows this with his rendition of Tommy Dorsey's "Trombonology<", featuring fellow Venezuelan musicians, Jorge Glem (cuarto) and Rodner Padilla (bass). The trio adds a fun and unexpected touch of Latin flavor towards the end of the tune. Continuing further in the realm of jazz, Domingo teams up with the Big Band Jazz de la Americas in performing Melissa Manchester's ballad "Looking Through the Eyes of Love". The flawless performance can best be described as refined elegance.
Domingo returns to his Latin American roots in the final track of the album, "Contrapunteo No. 1", by Costa Rican composer Carlos Guzmán. The piece opens with declamatory statements proclaimed by the trombone, accompanied by percussion-generated sounds of the rainforest. After this introduction, we are treated to robust and spirited Latin-infused dance, defying the listener to sit still!
As mentioned earlier, the inception of this album came when Domingo was encouraged by his quintet colleague the late Sam Pilafian, famed tubist, educator and record producer, to record a solo recording. The project was recorded in January 2019, at University of Kansas, a site that the Boston Brass previously had a residency. In conversations with Domingo, he shared that this CD was one of Pilafian's final artistic endeavors, having served as the album's producer. In fact, he passed away shortly after the album was mastered. Domingo dedicates this album to Sam Pilafian and chose the name "Eternal Gratitude" as a form of tribute in his honor.
It comes as no surprise that Eternal Gratitude won the Latin Grammy for Best Classical Album of the Year in 2020. Each track is a testament to Domingo's artistry and passion. Congratulations to Domingo Pagliuca and his colleagues!
Sound clips and purchasing information can be found at hearnow.com.