Recordings
Four Baßposaune Concertos from the Early Romantic Era 1820-1830: A Review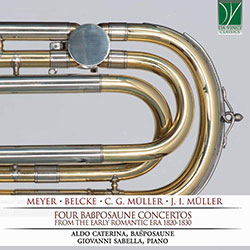 Four Baßposaune Concertos from the Early Romantic Era 1820-1830. Aldo Caterina, baßposaune; Giovanni Sabella, piano. 2021 Presto Classical DVC00199, 2021. Compact disc and digital media, 49 minutes. Concertino with Variations for Bass Trombone, Carl Heinrich Meyer; Concertino for Bass Trombone, Friedrich Belcke; Concertino for Bass Trombone, Christian Gottlieb Müller; Praeludium, Chorale Variations, and Fugue, Johann Immanuel Müller.
Over the past fifty years, period performance practice ensembles have become commonplace. Period performance practice solo recording have, as well, become fairly common on most strings and woodwinds, with trumpet and horn recordings being far less common. Caterina's recording of early Romantic works for bass trombone on a period instrument is excellent in both concept and execution. His tone throughout the recording is clear and compact, though brighter than what most performers think of as a bass trombone timbre. His technical work is very good, though a few passages seem inhibited by the instrument itself as the lower register seems a bit tight. In spite of the instrument's limitations for low register due to the bore of the instrument being far smaller than what would be considered a bass trombone in the 21st century, his flexibility, tone, and articulations in the low register are quite good. Intonation, articulation, and interval accuracy are excellent, and his flexibility from F2 to F4 is beyond reproach.
The literature selection is of relatively unknown solo literature from the 1820s and 1830s and are somewhat backwards looking towards Classicism in their harmonic structure and form. This is not surprising, as the composers were all trained as Classicists and their compositional careers spanned the transitional time from Classicism to Romanticism.
The first work on the recording, Concertino mit Variationen für Bassposaune (1820) by Carl Heinrich Meyer (1784-1837) is a four-movement theme and variations, with a heroic arpeggio-based theme and a lyrical second theme with ornamentation common to the time period. Both the soloist and collaborative pianist approach the work with delicacy when required and a heavier approach when appropriate. While the technical demands of the Concertino are not great, the work is quite enjoyable.
The second work of the recording was composed by Friedrich August Belcke (1795-1874). He was a trombonist of great reputation, serving as member of the Leipzig Gewandhaus Orchestra under Felix Mendelssohn and having a 30+ year career as a trombone soloist. Belcke's Concertino für Bassposaune, Op. 40 (1826) is a showpiece for technique as one would expect from one of the best-known trombonists of the day. Caterina's performance is excellent, and the balance between the solo and accompaniment is perfect. The four-movement work is set in the traditional slow-fast-slow-fast tempo scheme, and the lyrical sections show the soloist's control and beautiful legato. The fast movements call for light, accurate staccato and intervallic flexibility and the soloist and accompanist match style wonderfully. The movements are short by modern standard, with the longest being just under four minutes. His lip trills are delightfully smooth and beautifully performed, as are all other ornaments in the work.
The third work and final concertino on the recording, Christian Gottlieb Müller's Concertino in Eb für Bassposaune (1828) is just slightly Romantic, leaning far more towards Classical sensibilities of balance and tonality. Chord progressions follow common practice period standards. There are moments that remind me of Mozart's Horn concerti by the use of arpeggios and octave displacement at phrase endings. Both Caterina and Sabella perform well, with both ensemble and solo passages having the delicacy of phrasing necessary for the work. This composition has the widest range of all the works, with both extended high register and pedal register phrases in the fourth movement.
The final work is Preludium, Chorale, Variations, and Fugue (1831) by Johann Immanuel Müller (1774-1839). It is by far the most backwards-looking work on this recording, being far more Classical in nature than Romantic. The technical demands are not great, though it is well-performed. The work does require a lighter touch than most bass trombone works, and it has some beautifully moments. Most of the solo passages are balanced between scalar and arpeggiated phrases, and the soloist gives us a light, accurate staccato for both.
I would recommend this recording highly. Caterina and Sabella are a great team and both performers' musicianship shows through. While a performer on a modern bass trombone would not want to replicate the sound, hearing the excellent period performance practice demonstrated on this recording provides a great reference to the approach of an early Romantic bass trombonist. Caterina performs on instruments built by Gerhard Ernst Mönnich and Gerhard Wolfram of Marckneukirchen (Germany).
Excerpts and purchasing information for Four Baßposaune Concertos from the Early Romantic Era 1820-1830 is available at Presto Classical
.