Recordings
And If All Were Dark: A Review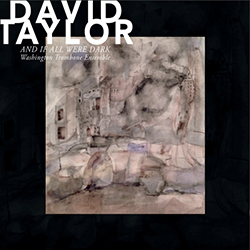 And if All were dark, David Taylor with the Washington Trombone Ensemble, directed by Chris Branagan. 2017 Triple Letter Brand. Compact Disc. Total Time 51:00. David Taylor and Franz Hackl: Herz, part 1, And if All Were Dark David Taylor: I. Variations on Lamentations, Franz Schubert/arr. David Taylor: II. Ihr Bild, David Taylor: III. PENCIL T AND RAIZEL G, Virgil Thompson: IV. Tango Lullaby: a portrait of Mile. Alvarez de Toledo, Franz Schubert/arr. David Taylor: V. Theckla: Eine Geisterstimme, Franz Schubert and David Taylor: VI. Double Tier - Shout (Der Doppelgaenger), Franz Schubert and David Taylor: VII. Double Tier (Der Doppelgaenger), TOO SUITE David Taylor: I. Hymn - "I saw three suns in the bright cold sky (and watched them all with steadfast eye)", Franz Schubert and David Taylor: II. Concatenation, David Taylor: III. Dance - "And On Me Shone As If They Never Would Be Gone", Franz Schubert/arr. David Taylor: IV. Song (Die Nebensonnen), David Taylor: V. Blues - "And If All Were Dark (t'were better so)", David Taylor and Franz Hackl: Herz, part 2
I have always loved the bass trombone - as a student and young professional player in London, the players I admired most all seemed to be bass trombonists, and yet if the tenor trombone has struggled to gain recognition as a serious medium of expression as a solo instrument (outside the world of jazz, that is) then the bass trombone had an even tougher struggle. Until very recently the available solo and chamber repertoire was both scanty and mediocre. So many great players and so little to call them out of the shadows. But if all were once dark, one player has shone out like a lighthouse illuminating not one, but a multitude of possible paths: David Taylor. And of all his albums, this is perhaps the most extraordinary and original. This is not just great playing - it's an extraordinary concept.
All of the music on this album is inspired by poetry. The music of Franz Schubert, Virgil Thompson, Franz Hackl interpreted and arranged by David Taylor, combined with his own composition and improvisations. But this is not merely a set of arrangements - the album is an intricate and labyrinthine meditation upon these composers' musical response to the mysterious and tortured poetry of Wilhelm Mueller, Heinrich Heine, Friedrich von Schiller and Carl Sandberg. Taylor also sets his own words in the autobiographic Pencil T and Raizel G as a counterpoise to what is otherwise effectively a deconstruction of Romanticism, re-imagined as a 21st Century howl against preconceived notions of "beauty." There is no political correctness on display here!
Taylor fearlessly combines extreme, distorted bass trombone sound with electronic manipulation, speech, song, manic chant, multiphonics, a wide variety of mutes (several of which are his own hybrids. Beautiful "normal" sound disintegrates into spittle, water noises, dirty vibratos, asthmatic gasps, and a tessitura that plumbs Plutonic depths. On several tracks the Washington Trombone Ensemble, directed by Chris Branagan, join Taylor to provide rich, sonorous choral-like backing.
For me, perhaps the most compelling two tracks on this album are Taylor's solo Double Tier - Shout, followed by Double Tier with the full trombone ensemble backing. Both are Taylor's arrangements of "Der Doppelgaenger" from Schubert's Wintereisse. Taylor sings/chants the words in Shout then solos over his monumental arrangement of Schubert's piano accompaniment to the song line. There have been a number of pieces written in commentary upon, or in homage to Schubert's great song cycle - for me the finest being Hans Zender's re-imagining of the complete cycle. But David Taylor's re-interpretation goes further, paying equal attention to both poetry and music, and succeeds in transforming them into an utterance of his own.
This is an album to be treasured; I have not encountered anything quite like it. The effect for me is less that of listening to a set of recorded musical performances, more like walking through some sort of dream-exhibition, in which familiar objects (in this case well known Germanic music and Romantic poetry) are seen refracted, strangely lit, seen at unexpected angles.
These days folks aren't buying CDs - what a pity. All too often we listen to single tracks, often highly compressed and on inferior equipment, frequently in noisy environments. I am no exception - this is modern life. But please don't do that to this album! This is a concept album, par excellence; it demands to be listened to in its entirety several times before selecting individual tracks - and in some time and place when you have the quiet to let yourself sink into the density and depth of sound. The sleeve booklet is highly informative; the artwork by Ronnie Taylor is a contributory factor to one's comprehension of the album. And the fact that the album is dedicated to Raizel G. makes a statement about the motivation behind the entire project, for all of the material which inspired David Taylor to make this music is itself unified by one common theme: love, love lost, and love found.
And if All were dark is available on David Taylor's web site.