Recordings
Fratres: A Review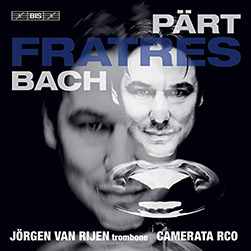 Fratres. Jörgen van Rijen, trombone; Camarata RCO. 2018 BIS Records. BIS-2316 SACD. Compact Disc. Total time 58:32. Fratres, Arvo Pärt; Concerto in D Minor, BWV 974, Johann Sebastian Bach, arr. Jörgen van Rijen; Vater Unser, Arvo Pärt; Concerto in D Major, BWV 972, Johann Sebastian Bach, arr. Jörgen van Rijen; An den Wassern zu Babel saßen wir und weinten, Arvo Pärt; Concerto in C Minor, BWV 981, Johann Sebastian Bach, arr. Jörgen van Rijen; Pari Intervallo, Arvo Pärt.
While at first glance, the pairing of works by contemporary composer Arvo Pärt and Baroque giant Johann Sebastian Bach may seem like an unlikely match, Jörgen van Rijen, principal trombonist of the Royal Concertgebouw Orchestra, has done just that in his 2018 release Fratres ("Brothers"). Joined by the Camerata RCO, a group comprised of his colleagues from the RCO, van Rijen alternates between works of Pärt and Bach. The link between these two great composers is rooted in both composers' innate sense of spirituality and masterful use of mathematics as a fundamental compositional technique. Pärt draws much of his creative inspiration from the works of Bach, including the concept of what was once old can be new again.
The idea of adaption and borrowing tie the two composers together. Each selection on the album has been skillfully arranged for trombone by van Rijen. The adaptation of Pärt's compositions was done so with the composer's approval. Many of his compositions already exist in multiple versions, so he was supportive of van Rijen's project.
In the case of the works of Bach, van Rijen undertook significant study of the original scores and orchestral parts as well as consultation with early music specialist Jan Willem de Vriend. It should be noted that the three concerti selected for this album were themselves Bach's own adaptations of works by Alessandro and Bendetto Marcello and Antonio Vivaldi. With his extensive knowledge of Baroque performance practice, van Rijen presents purely musical interpretations, which transcend the original instrumentation. His application of Baroque embellishment is exceptional throughout the album.
The disc begins with the album's title track, Pärt's Fratres, which immediately draws in the listener through van Rijen's flawlessly executed series of arpeggiated passages. There is a distinct sense of power and mysticism, as the strings create an almost celestial floating texture, over which the solo trombone sings beautiful obligato lines. Each section is marked by claves striking over sustained drones in the low strings.
Vater unser, originally for counter-tenor and piano, has been arranged for trombone and string orchestra. The song is elegant in its simplicity, sung soulfully by the trombone. Van Rijen's performance in An den Wassern zu Babel saßen wir und weinten is both breathtaking and haunting throughout, with its long chant-like phrases. The blend between the trombone, clarinet and horn is impeccable.
The Bach concerti inserted between each of Pärt compositions are wonderful palette cleansers and serve as excellent examples of Italianate Baroque concerto style. In each instance, Van Rijen's playing is so refined and beautiful, a listener may be left with the impression that the pieces were originally composed for trombone. Not only is the solo playing exceptional, but the sense of ensemble and attention to stylistic detail is impressive.
This disc firmly reinforces Jörgen van Rijen's place as one of the world's greatest trombone soloists. Whether you are a trombone enthusiast or simply one who appreciates a profound musical experience, this recording is well worth adding to your library.
Your browser does not support the audio element.

Fratres, Pärt

Your browser does not support the audio element.

Concerto in D minor, I, Bach

Your browser does not support the audio element.

Vater Unser, Pärt