Recordings
Starsplitter: A Review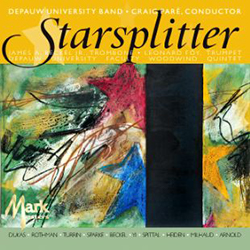 Starsplitter. DePauw University Band, Dr. Craig Paré, and Music Faculty. Mark Custom, Clarence, NY, 2008. 1 compact disc. Total Time 72:52. Paul Dukas: Fanfare précéder "La Péri," Philip Rothman: Starsplitter, Joseph Turrin: Fandango, Philip Sparke: Overture for Woodwinds, James A. Beckel, Jr.: Music for Winds, Piano, and Percussion, Chen Yi: Tu, Robert Spittal: Pacem, Bernhard Heiden: Sinfonia for woodwind quintet, Darius Milhaud: Suite (d'après CORRETTE) pour Hautbois, Clarinette et Basson, Malcolm Arnold/Paynter: Four Scottish Dances, Op. 59.
Released in 2008 on the Mark Custom label, Starsplitter was the DePauw University Band's seventh compact disc. The disc features a variety of works from the 20th and 21st centuries. The performers on the CD include DePauw University band students and music faculty members. As stated by conductor Dr. Craig Paré on the DePauw University news release for Starsplitter, "Each CD, from Starsplitter to our very first recording twelve years ago, Shadows of Eternity, is designed to highlight the many talents of the University and School of Music." The disc is an impressive accomplishment that the performers, faculty members, and university should be proud of. Not only does Starsplitter highlight each section of the band, but it also features wind and brass faculty members. This is such a great idea for a university wind band CD.
The recording opens with the well-known exciting fanfare from La Péri by Paul Dukas. The band plays this work with a strong sense of ensemble skills. This piece has given top orchestras intonation issues due to Dukas's creative harmony, but the students of the DePauw University Band handled the challenges of the piece quite well. I was particularly impressed by the more reserved approach from the brass section. Too often, groups play this fanfare far too loud, and the result is intonation and balance issues. Not here. Bravo, DePauw students and conductor!
Starsplitter, by Philip Rothman, is a quick and exciting wind band showpiece. The entire DePauw University Band is featured in this track, and the brass section has moments to shine. I particularly enjoyed the overall ensemble sound in this track. Moments of this piece remind me of compositions by John Adams. This superb performance leaves no question as to why the disc was named for this piece.
Joseph Turrin's Fandango for solo trumpet, trombone and band features the wonderful trumpet and trombone faculty members at DePauw, Leonard Foy and James A. Beckel, Jr., respectively. The spirited piece displays both the virtuoso skills of Professors Foy and Beckel and the sensitive ensemble accompaniment from the DePauw band members. The contrasts in the piece afford listeners the chance to hear these soloists in lyrical and technical modes. This is such a fun track to listen to! I am sure it was also fun to record.
Philip Sparke is well known to brass players for his immense contributions to band and brass band literature, but his composition on this disc, Overture for Woodwinds, is solely for woodwind instruments. I loved listening to this piece, and the DePauw woodwinds played so beautifully.
James A. Beckel, Jr. appears once again on this disc, though this time as a composer. His Music for Winds, Piano, and Percussion is another challenging feature for band. The students played this piece well, with beautiful solos and soli sections. Ensemble intonation, ease of tone production, blend, balance, and musical sense of phrasing was particularly impressive in this piece.
Next on the CD is Chen Yi's work, Tu, for wind ensemble. Originally composed for orchestra, Chen Yi wrote that this work is, "...dedicated to the memory of New York firefighters who sacrificed themselves protecting thousands of fellow citizens at the 9.11 tragedy in 2001." This is the most modernistic sounding piece on the album. The students played this piece with spectacular execution.
Robert Spittal's Pacem opens with soloistic brass lines leading to a full brass chorale. The woodwinds take up the material, and the music develops into a lush colorful texture. This track shows off the ensemble's skills in lyrical phrasing. This is one of my favorite tracks on the CD. Beautiful music-making, Dr. Paré and company!
The DePauw University Woodwind Quintet gets their own feature with Bernhard Heiden's Sinfonia for woodwind quintet. The playing by these faculty members is top notch, and it demonstrates the level of performance and education that would enable the woodwind and horn sections to perform so well in the DePauw University Band. Virtuoso levels of intonation and ensemble musicianship are on full display here by Anne Reynolds on flute, Leonid Sirotkin on oboe, Randy Salman on clarinet, Kara Stolle on bassoon, and Robert Danforth on horn.
Similarly, the Suite (d'après CORRETTE) pour Hautbois, Clarinette et Basson by Darius Milhaud features the oboe, clarinet, and bassoon faculty members from the previous track as a trio performing a quirky piece by the French polytonal composer, Milhaud. The trio navigates the challenges of the work's tonality with finesse.
The CD ends with the standard wind band favorite, Four Scottish Dances, Op. 59, by Malcolm Arnold and set for band by John P. Paynter. This performance sums up the entire disc well. The ensemble plays the work with ease. The DePauw University Band plays with a maturity and joy that makes listening to this CD an enjoyable experience. The faculty performances are worth hearing, as well. I look forward to hearing other discs from the faculty and students at DePauw.
Your browser does not support the audio element.

Starsplitter, Beckel

Your browser does not support the audio element.

Fandango, Turrin

Your browser does not support the audio element.

Scottish Dances, I. Pesante, Arnold/Paynter