Recordings
X Over Trombone: A Review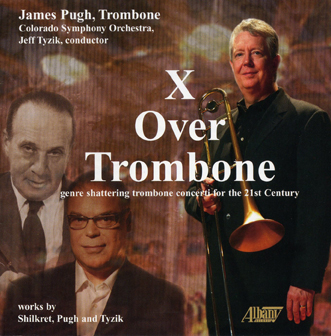 X Over Trombone: James Pugh, trombone; Colorado Symphony Orchestra, Jeff Tyzik, conductor. Nathaniel Shilkret: Concerto for Trombone and Orchestra. James Pugh: Concerto for Trombone and Orchestra. Jeff Tyzik: Concerto for Trombone and Orchestra. Albany Records, 915 Broadway, Albany, NY 12207.
One advantage to living over a half-century is that you tend to collect a lot of stuff. Trombonists who have come of age in this decade have before them a plethora of recordings of well- and lesser-known players. This was not always possible. When I was in high school in the 1960s, I managed to collect nearly every non-jazz trombone solo recording that was then currently available. That neatly packed collection of LPs took up about 18 inches of horizontal space on a shelf. As the CD era dawned, more and more trombone solo recordings were birthed, yet, as the years have gone by, even some of the finest recordings have gone out of print and if you did not buy them when you had the chance, you not only don't have and can't get one, you are probably even unaware of their existence.
So it is that what is arguably one of the most important, most creative, most interesting and most riveting trombone recording to have ever been released is probably unknown to most young players. It is, today, out of print, although used copies can be found from time to time. Its release in 1984 dates it from before today's college freshmen were born. Yet the album introduced us to the prodigious talents of one James E. Pugh, then a tousle-haired fresh face in his early thirties who subsequently went on to be part of the late 20th century's explosion of trombone talent and creativity.
The Pugh-Taylor Project was a recorded collaboration between James (Jim) Pugh and David Taylor. Taylor was, then, already established as one of the most prodigious bass trombone talents in New York City and Pugh had moved to New York after a productive period as a member of the Woody Herman Band. This review is not about that recording per se, but any discussion of Jim Pugh and his current musical path would be incomplete without at least mention of his ground-breaking collaboration with David Taylor. A Digital Music Products release (DMP-CD 448), The Pugh-Taylor Project has the feel of a free improvisation of two creative players who, despite very different backgrounds and training (Taylor was educated at Juilliard where he studied with Davis Shuman, Pugh hailed from Eastman where he studied with Emory Remington and Donald Knaub), exploded with fresh ideas that at that time - and still, in our time - were shocking in their creativity and virtuosity. Mike Abene's arrangement of the Ellington/Strayhorn classics, Single Petal of a Rose/Passion Flower for unaccompanied trombones remains, to these ears, the most innovative and interesting duet for trombones ever written; the coda shows Pugh with the intimate style of a singer who truly knows the love of which he speaks. Bob Brookmeyer's Red Balloons sounds like it was recorded in Bedlam - a terrifying 15-minute journey into the world of lunacy and the deranged. Pugh and Taylor, joined by eight synthesizers in Keith Foley's Futures, conclude their album with an extraordinarily forward-looking tour de force.
All of this is to say that for many of us, The Pugh-Taylor Project was the moment that we stood up and took notice of Jim Pugh. In the intervening years, he has been heard on dozens of recordings - including a number that included significant solo play - but despite his tremendous accomplishments and collaborations with noted jazz artists (and even crossing over to be part of Yo-Yo Ma's "The Silk Road Project") - he has still managed to fly a bit below the radar in the rarefied judgment hall of the "trombone scene," eschewing the high-profile self-promotion that so many top players have embraced. That this, his first major solo release, was not recorded until his 53rd year tells us something about a man who waited until just the right time to make an important mark.
You need not wait until the last sentence of this review to get my recommendation: sit down at your computer right away and order this album. DO. IT. NOW. Here's why:
In X Over Trombone, Jim Pugh presents three wildly diverse but equally important trombone concerti. It is remarkable to think that for many decades the Concerto for Trombone by Nathaniel Shilkret lay virtually unknown. Composed in 1942 for Tommy Dorsey, it was premiered by the New York City Symphony in 1945 with Dorsey as soloist, conducted by Leopold Stokowski. A subsequent performance in the same year with Hoyt Bohannan as soloist at the Hollywood Bowl was the last time the piece was heard in public (a 1947 recording with Will Bradley was never released) until Pugh gave a performance in 2003 with Skitch Henderson and the New York Pops in Carnegie Hall. The history of those "quiet years" when the piece lay dormant is a fascinating tale, told by Bryan Free in the International Trombone Association Journal (Volume 29, Issue 1, Winter/January 2001). The story need not be repeated here, but suffice to say that Free's considerable effort was responsible, with the blessing of Shilkret's family, for reconstructing the piece from the live broadcast of Dorsey's performance and a box of orchestral parts (no score or solo part survived). At long last this important Concerto has come back to us after nearly 60 years of silence.
This new recording of Shikret's Concerto is important for three reasons. First is the piece itself. It is a 22 minute romp, a "period piece" to be sure, with all of the best (and a few of the worst) elements of 1940s pseudo-pop-semi-classical music. At times you feel you are transported to the Land of Oz, with the finest of 1930s and 40s Hollywood soundtrack writing blowing at its back. The second movement is so evocative that you can practically see (and even smell) the smoke-filled room in which the trombone aches with memories. And one has to smile when hearing Shilkret's direct quotation of "I'm Getting Sentimental Over You," surely no accidental tribute to Dorsey. And what to make of Shilkret's stunning first movement cadenza, with its lengthy passage of multiphonics (which Dorsey did not play in his performance)? Genre shattering? You bet.
Second, Pugh's playing is absolutely right for this piece. He seems always aware that this piece was written for Dorsey and he never smothers it with an inappropriate "symphonic" approach. Possessing one of the most beautiful trombone sounds - silky is the only word to describe it - Pugh sings and soars his way through Shilkret's excursion. His technique is prodigious and he never loses sight of the fact that the trombone is merely the vehicle for his own expression; the instrument never speaks for its own sake as if to say, "Look at me, this is how a trombone should sound." That Jim Pugh is often referred to as a "trombonist's trombonist" is high praise, and in his performance of Shilkret's important work, he reinforces that moniker once again.
Thirdly, I cannot speak too highly of Gary Chester's work as recording and mix engineer for this album. He manages to capture - immediately, in the first measure of the Concerto - that classic 1940s sound. The Colorado Symphony, which plays ably throughout, sounds like it is a studio orchestra recording a classic film score. While Shilkret's piece evokes more than faint images of Errol Flynn and echoes of film music by Korngold and Rozsa, the sound of this recording is a big part of the atmosphere that both Pugh and the orchestra manage to communicate.
The release of Pugh's performance of the Shilkret Concerto naturally will invite comparisons to Christian Lindberg's new recording of the same work (BIS-SACD-1448). Briefly, here are a few observations that shed more light not only on these two fine players but on the piece itself.
Christian Lindberg is a player of considerable ability and he approaches the Shilkret Concerto with drive and passion. Yet several things work against Lindberg and his recording. First, his approach is both hard driving and humorous. He seems to see the Concerto coming from a page of Gershwin's An American in Parisd - "brash" would be a way to describe it. This would seem logical enough, given Shilkret's relationship with Gershwin, yet it ignores the fact that Shilkret spent considerable time studying Dorsey and his playing. A case in point - at 8:33 in the first movement, Lindberg articulates the triplets that lead up to the cadenza. Pugh, on the other hand (at 8:33 on his recording) slurs them. The difference is striking, and that passage is a microcosm of each player's recording. Too, the difference between each player's equipment is a piece of the puzzle. Pugh, on his .500 bore Edwards, is able to soar over the orchestra and his smooth, elegant playing fits perfectly with Shilkret's overarching concepts. Lindberg proves that a symphonic .547 bore trombone (Conn 88H), while being a fine instrument, is not best suited for all kinds of playing. You simply need the best tool for the job and for Shilkret's high tessitura, Lindberg offers an overly broad and thick sound against Pugh's more focused (and remarkably full) approach. In this, Pugh's equipment much more closely matches that of the "Sentimental Gentleman of Swing" and brings us into that flexible world of unique beauty that can only be achieved with smaller equipment. Also, the recorded sound of BIS pushes Lindberg more to the background while Pugh is up front and never causes the listener to strain to hear the solo line. Finally, there are the small things, like the difference between a xylophone with rosewood bars (Colorado Symphony) and one with synthetic bars (Säo Paolo). But why buy just one: for such an important concerto, both Pugh and Lindberg offer enough to justify purchasing both and enjoying the comparison yourself.
And the answer to the inevitable question: Who was first to make the first modern recording of the Shilkret Concerto? Given his important role in securing the first modern performance, it's appropriate it was Jim Pugh, though only by a nose: his recording was made in July 2004 while Lindberg's was made the following month, August 2004.
The rest of the CD is devoted to two newer works. Jeff Tyzik's Concerto for Trombone was written for and premiered by Mark Kellogg with the Rochester Philharmonic in 2003. It is an appealing post-modern work in every sense, flirting with many styles (especially Afro-Cuban and Latin influences) while still maintaining a coherent message and concept. The second movement, "Lament," is Tyzik's musical expression in response to the 9/11 attacks; Pugh plays it with palpable intensity and beauty. Friends since their days at Eastman, Tyzik and Pugh clearly have a simpatico relationship that is evident in the fact that, once again, Pugh plays as if the performance is a true collaboration, not simply a layer of trombone playing added on top of an accompaniment.
Pugh's own Concerto for Trombone has been around since 1992; when I first heard it I was struck by its overwhelming "American" feel and flavor. It bustles with energy and optimism. If I mention the names John Williams, Aaron Copland, Leonard Bernstein, Christopher Brubeck and Eric Ewazen in the same sentence when talking about Pugh's compositional style, I do so to pay a high compliment. The second movement is crushing in its beauty and simplicity. No instrument but the trombone could communicate its tender message of hope and love. Each listener will imprint his own story on the Concerto but I found myself reaching a deep emotional moment when it seemed as if Pugh had read my mind and knew my own journey. And any composer who writes a non-gratuitous, long-held high f sharp as the final note for the soloist and then has to actually play it himself is telling you something. Having known Jim's Concerto for many years, it is nice to finally have a recording of it which is as definitive as one could hope for.
With the flood of trombone recordings on the market these days - with much more of dubious than essential quality competing for attention - it is refreshing to see X Over Trombone provide us with both a look back and a look forward. The whole package - the quality of the music, the excellence of Jim Pugh's solo playing, the fine contribution of the Colorado Symphony Orchestra, the sympathetic leading of Jeff Tyzik, the engineering of Gary Chester and the informative liner notes - comes together in a very satisfying way. This "trombonist's trombonist" has done it again, and we are all richer for it.
X Over Trombone is available on Spotify.