Literature
Jazz Improv Materials Handbook Complete: A Review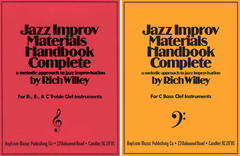 Jazz Improv Materials Handbook Complete: a melodic approach to jazz improvisation by Rich Willey (Boptism Music Publishing) Review by Michael Dease
Rich Willey utilizes his considerable experience asa performer, composer and pedagogue to craft the Jazz Improv Materials Handbook, one of the more practical jazz methods in publication.
Willey injects good-natured humor throughout the handbook's 167 pages. The levity is a welcome addition to the vast amount of technical and melodic content, which, upon first glance could appear overwhelming. The clear-cut drills (including interpretations of Herbert L. Clarke and Donald S. Reinhardt studies) are well-supported by Willey's expert commentary, which is concise, unassuming, and easy to understand. Included very early in the book is a suggested listening list that is sure to keep any student busy. My only criticism of this method is its lack of a rhythmic approach, which is not uncommon in jazz education pedagogy. Having become familiar with his style of explication, I would be interested to hear Willey's thoughts on rhythmic development and interaction.
The handbook includes a play-along CD, and due to its sturdy construction is sure to withstand many years of use. As a musician equally at home in New York City and the university lecture hall, Willey brings a unique perspective to his jazz method. Though highly influenced by pioneers of jazz education, such as Dr. David Baker and Jamey Aebersold, Willey's "updates" are sure to appeal to the next generation of young jazz students, or to anyone looking for a one-stop ("Mom and Pop Bebop Shop" according to Willey) source for for harmonic and melodic direction. Please visit Rich Willey on the web at www.boptism.com where you can learn more about his compositions, arrangements, and purchase this highly-recommended introduction to the world of jazz improvisation.