Recordings
Crossroads: A Review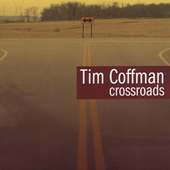 Personnel: Tim Coffman, trombone and arranger; Scott Wendholt, trumpet; Mark Colby, tenor and soprano sax; Mike Kocour, piano; Kelly Sill, bass; Bob Rummage, drums, Personnel: Yes or No (W. Shorter), Sail Away (T. Harrell), Step Lightly (J. Henderson), Crossroads (T. Coffman), My Old Flame (Johnston & Coslow), Summer in Central Park (H. Silver), Sky Dive (F. Hubbard), Lament (J.J. Johnson), Caravan (Tizol, Ellington & Mills), Alone Together (Deitz & Schwartz)
On Crossroads, Tim Coffman presents a solid set of compositions by noted hard bop heavies, along with three standards and an original. The selection of tunes shows the priorities of this CD. This disc is about celebrating the lineage of mainstream modern jazz. The crisp arrangements are performed with skill and conviction.
Coffman has a rich warm trombone sound, and manipulates the instrument with swiftness and control. The rest of the band plays well, with Wendholt standing out. The CD opens with Wayne Shorter's "Yes Or No" and seems like it could be the beginning of a heavy burn session. The rest of the program is quite mellow however, with ballad treatments of "My Old Flame" and "Lament," and a pretty relaxed vibe on the rest of the selections, save for "Caravan," and the title track. Coffman's original composition, "Crossroads," has a Woody Shaw kind of vibe to the head and the band seems to free up a bit for the solos. The improvisations are engaging and spirited throughout.
Coffman is based in Chicago, and keeps a busy schedule performing and teaching. Fortunately for fans and students of jazz, he took a moment at this Crossroads to look back at the rich recent history of jazz.