Recordings
An Evening from the 18th Century: A Review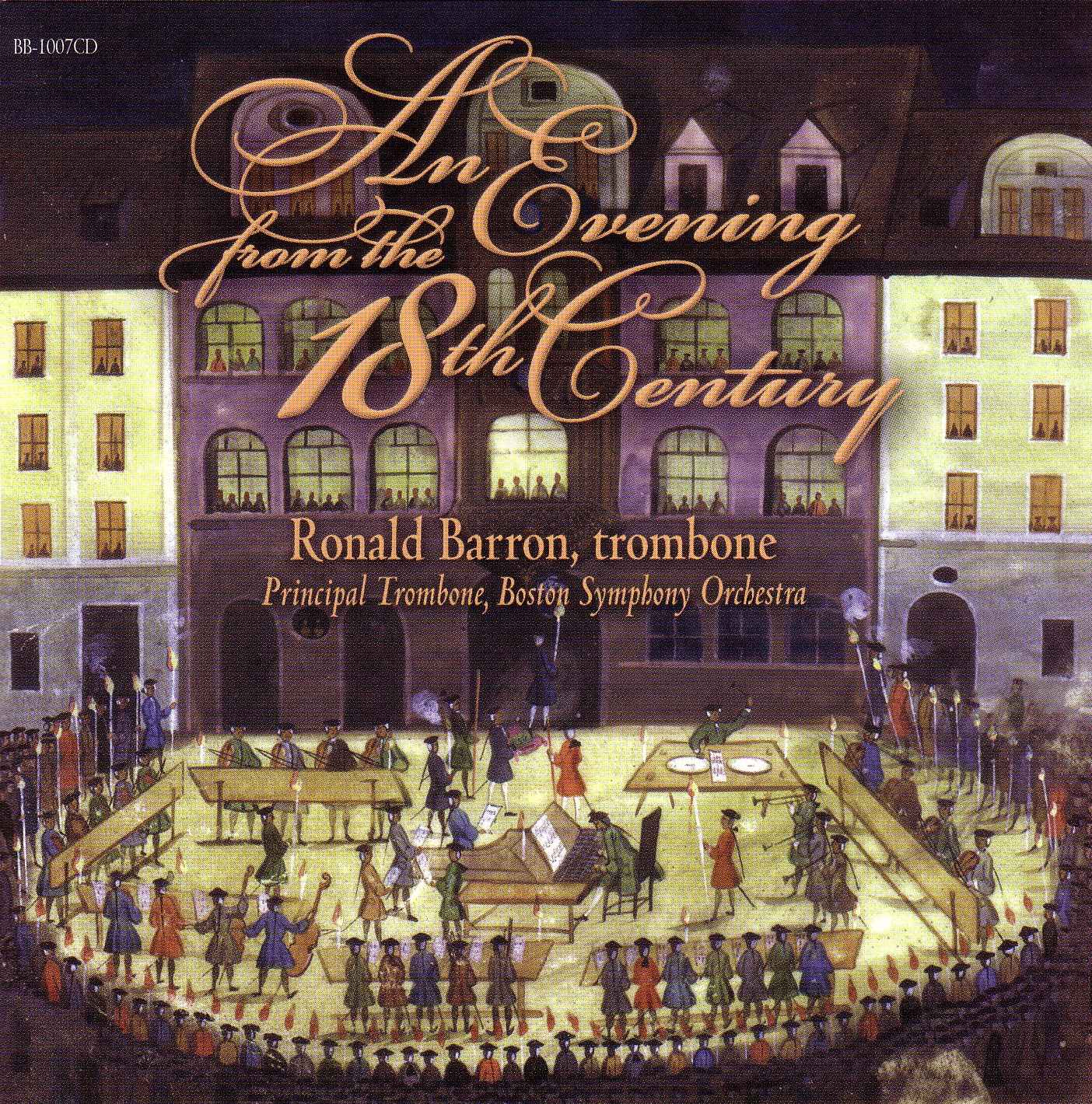 An Evening from the 18th Century. Personnel: Ronald Barron, alto trombone, James Sommerville, horn, Darren Acosta, alto trombone, and the New 18th Century Players, Alain Trudel, conductor. Boston Brass Series BB-1007CD. 2004. Selections: Tommaso Albinoni/Franz Giegling ed.: Concerto a Cinque Op.9 No.9 in C. Georg Christoph Wagenseil: Concerto. Johann Georg Albrechtsberger: Concerto. Johann Michael Haydn: Concertino in D.
Ronald Barron, principal trombonist of the Boston Symphony, has recorded extensively as a soloist. In this his ninth release he has assembled a fine group of colleagues to collaborate on an alto trombone project that focuses on some of the most well known repertoire for the instrument, both original works and a transcription. Canadian Alain Trudel, recognized as a brilliant, virtuoso trombone soloist in his own right, here contributes as conductor of the New 18th Century Players, a chamber orchestra formed from Boston area musicians. Mr. Trudel certainly understands the demands this music places on the trombone soloist and he effectively communicates style and tempo to the orchestra.
The two concerti are bookended by works involving two of Mr. Barron's Boston Symphony colleagues who join him as soloists. To open the disc Darren Acosta of the BSO trombone section artfully matches Mr. Barron on the Albinoni Concerto. Originally for two oboe soloists, brass players have adopted this concerto as a preferred vehicle for producing the grand, three movement, Italian Baroque concerto experience. Trumpeter Maurice Andre recorded it some years ago and it works equally well for two alto trombones. To conclude the disc BSO principal horn James Sommerville joins Mr. Barron on the Haydn Concertino, for which he also composed the cadenzas with great flair. The two voices compliment each other well and are exciting to hear. The performances are clean, accurate and impressive from all. Tonal quality and balance are pleasing. Stereo separation provides realistic spatial relationships, especially when listening with headphones.
Mr. Barron's embellishments are idiomatic and tasteful even if some are a bit awkward; a few are stunning. He has obviously worked hard to properly fit authentic essential ornaments into his performance without interrupting rhythm, especially nachschlag and other devices that connect trills to cadential resolutions, gestures that are often difficult to execute on trombone. Even if some are not entirely successful this is no small accomplishment. Many trills are just not available at the correct interval especially in minor modes, which typically demand half step trills. 18th century trombones did not have valve attachments to help solve these problems and even though Mr. Barron faces them with a modern alto trombone he has chosen one without a valve attachment. His sense of pitch is centered and reliable, especially in the upper register, never forced. He pleasantly mixes standard cadenzas with his own ideas to personalize the concerti.
Mr. Barron has chosen to adopt a rather articulate style throughout, which is arguably quite authentic for trombone playing of the Classical period. Even the lyrical, slow movements feature rather separated, clearly defined notes. His clarity is exemplary as are his phrase shapes and sense of classical inflection. This trombone playing does not sound Baroque! He wisely and faithfully produces late 18th century style that is not overly legato or laden with Romantic gestures, which makes this recording quite valuable for those who appreciate fine distinctions of proper, Classical style. On the other hand, one could wish to hear contrast between the Albinoni Concerto, a piece that dates from 1722, and the rest of the music on this disc, which is more Classical in nature. But how does one arrive at an Italian Baroque style of trombone playing? There are precious few clues outside of church music to offer guidance. Nevertheless, it seems logical that borrowing music from a particular period should bring along elements of style from that period: Baroque vs. Classical, German vs. Italian, conservative reading vs. extemporaneous embellishment, steady rhythm vs. tempo rubato, separation in articulation vs. lyrical legato, etc. However, the theme of this recording seems to have trumped any hair splitting with regard to national style and historical placement. Clean, beautiful playing is never wrong. One can only hope that the composers represented here actually heard their works performed with as much clarity and grace as we hear on this recording, Albinoni included. It will certainly serve as an important document of 21st century interpretation of these classic works. An Evening from the 18th Century will please all who appreciate music of this era.
More information available at Ronald Barron's web site.