Recordings
Divertissement: A Review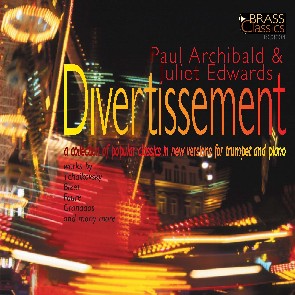 Paul Archibald and Juliet Edwards, Divertissement. Brass Classics #BC3004. Personnel: Paul Archibald, trumpet and Juliet Edwards, piano. Selections: Rimsky-Korsakov, Capriccio Espagnol; Mussorgsky, Gopak; Tchaikovsky, Ballet Suite; Shostakovich, Prelude No. 18; Mussorgsky, Capriccio; Moszkowski, Moderato-Allegro; Moszkowski, Bolero; Moszkowski, Allegro brioso; Granados, Berceuse; Moszkowski, Con Moto; Delibes, Waltz; Delibes, Passepied; Ravel, Sonatine (2nd movement); Debussy, Passepied; Fauré, Song Without Words; Ravel, Rigaudon; Bizet, Carmen Suite.
Paul Archibald has led an impressive career as co-principal trumpet of the Orchestra of the Royal Opera House, Covent Garden, a member of the Philip Jones Brass Ensemble, The London Sinfonietta and as principal trumpet of the BBC National Orchestra of Wales. He is currently an active performer with the chamber ensemble The Fibonacci Sequence in addition to his own group, the English Brass Ensemble and is actively involved in collaborations with percussionist Simon Limbrick and pianist Juliet Edwards in addition to an active teaching schedule.
According to Paul Archibald's website, the music on his CD entitled Divertissement was initially intended to expose young performers and listeners to classic melodies by composers of the 19th and 20th centuries. All of the music on the CD was transcribed for trumpet & piano by Mr. Archibald and is available for purchase. The arrangements are clear and convey the spirit of the original work very well. The trumpet playing is powerful, sensitive and executed with a distinctive, beautiful tone. The ensemble between Mr. Archibald and Ms. Edwards is excellent and the duo seems to convey successfully the enjoyment of performing together.
CD purchase information can be found on the Brass Classics website: www.brassclassics.co.uk. All of the works featured on the CD are published by Brass Wind Publications and available through their website at www.brasswindpublications.co.uk.