Recordings
Too Scared To Play: A Review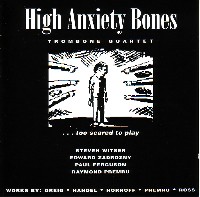 High Anxiety Bones TROY 346. Personnel: Steven Witser, trombone; Edward A. Zadrozny, trombone; Paul Ferguson, trombone; Raymond Premru, bass trombone; Andrew Hicks, bass trombone. Selections: Dances for Trombone Quartet, George Frederic Handel, arr. Ernest Miller; Suite for Four Trombones, Alfred Hornoff; Two Pieces for Trombone Quartet, Jules Semler-Collery; Tissington Variations, Raymond Premru; Four Sixteenth Century Chansons, Clement Jannequin, Jean Duboys, Anonymous, arr. Ernest Miller; Trombone Quartet, Walter Ross; Elegy, Op. 47, No. 7, Edvard Grieg; Like Someone in Love-I'm Getting Sentimental Over You, Jimmy Van Heusen, arr. Paul Ferguson; In Memorium, Raymond Premru.
Anyone starting a new ensemble hits a major obstacle very quickly - choosing a name. When it comes to trombone quartets, the irresistible urge to include "trombone quartet" in that name often presents itself. While this makes absolutely clear what the group is all about, it also stifles originality and flair.
The gentlemen in this recording seem to agree. Starting out as "The Ohio Trombone Quartet", they soon re-named themselves "High Anxiety Bones" - a much better choice (in my humble opinion). They claim it's a reference to the occasional jitters we all feel prior to public performance. Well, if anxiety helped them to perform at the standard captured in this recording, I for one will never seek stress-relief ever again.
From the very first notes, the technical facility of these gentlemen is clearly evident and doesn't fail to impress. From the solid high-register playing of Steve Witser through to the robust bass trombone sound of the late Ray Premru, one can find an abundance of inspiring performance. But it is the work these gentlemen achieve as a quartet that is truly exceptional.
I have never heard such unity in the numerous trombone quartets I have listened to as in the quartet recorded here. This surprised me especially given this quartet's wide ranging backgrounds. Two are current and former members of major American orchestras, one is an active jazz performer and arranger, and the other was an American-born composer who spent many years as bass trombonist for a top London orchestra. In spite of such variety, they perform here almost as of one mind in regards to style, intonation, articulation, timbre, rhythmic precision, and in fluctuations in tempo.
Because of this unity the High Anxiety Bones have been able to perform the repertoire on this recording - which is also of a widely varying nature - to the highest possible technical standard and in the relevant stylistic approach.
The opening selection, a series of dance pieces by Handel, has been expertly arranged here by Ernest Miller. The way each piece has been ordered creates a transition of styles that reminds me very much of that in Serocki's Suite for Trombones. The closing Allegro movement is my favourite, and the quartet performs it splendidly. Whether playing in parts, in canon, or in unison, the tempo and "flow" of the movement is maintained from beginning to end - truly living up to its name as a dance. At just over twelve minutes, this collection makes an excellent choice for a concert programme, whether it be to include Baroque music or purely for an entertaining and fulfilling work.
In addition to the Handel Dances, Miller provides arrangements of medieval French songs and of Grieg's Elegy. In each work Miller's inventiveness of arranging allows the many timbral colours available to the trombone quartet to shine through. Of particular note is the Grieg Elegy in which the theme is often written in the bass trombone part, providing a deceptively difficult solo challenge for the bass trombone. Needless to say, Ray Premru rose to the challenge and provides a wonderful example of the bass trombone sound.
This recording is very much a tribute to Premru, who succumbed to cancer in 1998. Not only is this recording testament to his talent as a trombonist, but also to his talent for composition as represented by two works. One of these works, Tissington Variations, was written during his many years in England. Premru's affinity for dissonance and tonal clusters is clearly evident in the first movement, with angular muted passages requiring great rhythmic precision and interesting glissandi effects featuring in the second movement. What I enjoy about this piece is its unpredictability - even after listening to it several times I never know what's coming next. Tissington Variationsis a refreshing and well-needed part of the trombone quartet repertoire.
Besides Premru's two pieces, there are three other works specifically composed for trombone quartet. Walter Ross' Trombone Quartet reminds me at times of Tissington Variations, but set in a more classical structure with a serene chorale in the inner movement, and some interesting mute work. This work is quite virtuosic, both for the individual players and the quartet as a whole, and makes an interesting contrast in a recital programme.
Alfred Hornoff's Suite for Four Trombones is clearly set in the classical/romantic tradition - Brahms and Mahler come to mind - with the first part written for the alto trombone. This work explores the gamut of range and expression more fully than any other work on this recording, but I feel this is achieved at the cost of stylistic cohesion. Each movement in itself provides some fantastic music - the final movement is the most "symphonic" trombone quartet work I've heard to date - but they are so varied that I find it hard to relate each movement to the others. This work is perhaps an ideal choice for shorter concerts, so a number of styles can be explored in a relatively short time.
In their selection of repertoire, the High Anxiety Bones have featured a wide range of music, albeit mostly in the classical realm. Their one encounter in jazz, Paul Ferguson's arrangement of Like Someone in Love and I'm Getting Sentimental Over You, is well written and performed yet I feel the piece is too similar to other works to provide a real contrast. Something similar to Tribute to J.J. Johnson (recorded by Joseph Alessi on New York Legends) would have made more impact in displaying their ability to cross between classical and jazz.
In summary, this recording is a much-welcome addition to the small collection of trombone quartet recordings available. The selection of many new and unknown works provides a reference for other trombone quartets to expand their own repertoire, and the performance of the High Anxiety Bones themselves is exemplary in every way. They have come together and produced a model "trombone quartet sound" worthy of study and emulation.
My only real regret with this recording is that, with the unfortunate passing of Ray Premru, the quartet recorded here no longer exists. One can only hope that the remaining members will be able to collaborate with another bass trombonist (such as Andrew Hicks, who performed in Premru's place for In Memoriam) to produce more recordings of the quality found in Too Scared to Play.
More information on this album can be found at Muziekweb.nl.