Recordings
Edenderry: A Review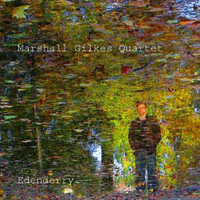 Edenderry ASR 001 Personnel: Marshall Gilkes, trombone and compositions; Jon Cowherd, piano; Matt Clohesy, bass; Johnathan Blake, drums. Selections: Puddle Jumping, Shady Skies, Waltz, Lost Path, This Nearly Was Mine, Gilkean, Dissonancia, Gummi de Milo, Edenderry.
Marshall Gilkes's debut solo album, Edenderry, will be a welcome addition to any jazz trombone fans' CD collection. Although Gilkes has previously recorded as a sideman for the Big 3 Palladium Orchestra and David Berger, it wasn't until the release of Edenderry that listeners could hear the spectrum of Gilkes's style on recording. This project provides a number of different sides to his musical personality, ranging from straight ahead bebop to contemporary post-bop styles to a refreshing treatment of the Rogers & Hammerstien classic This Nearly Was Mine. The performances on this album range from an intense and in-your-face approach to more introspective and gentle playing.
Edenderry starts with a bang in the form of Gilkes's original composition Puddle Jumping. After playing this opening track for a fellow trombone player he remarked, "This guy is out of control!" From the beginning of this track Gilkes shows a remarkable ability to maneuver between the pedal register of the trombone to the middle and upper register with fluidity and grace. His soloing on this composition shows not only that he has absorbed the lessons from the bebop trombone masters but also the harmonic language of the post-bop style not easily adapted on trombone. Drummer Johnathan Blake rounds out the solos on this track with a very musical solo that effectively moves from playing over the form of the composition to freely out of time before progressing back to the head. The transitions between swing and latin styles on this composition work very smoothly and along with Gilkes's unaccompanied playing make this one of the most enjoyable tracks on this album.
The musicians show their more sensitive side on Gilkes's compositions Waltz and the title track Edenderry. Not content with flash over substance, Gilkes and his band pace their solos extraordinarily well throughout so that each track explores a wide range of emotions within the cohesive context of each composition. The interaction of the rhythm section is strong without being overpowering to the soloists. Pianist Jon Cowherd, bassist Matt Clohesy, and Blake are sensitive accompanists as well as charismatic soloists throughout.
The packaging and cover art on the CD are very well done. The only criticism of this aspect of the album is that it would be nice to have some more liner notes to learn more about the performers and the music. Fortunately it does list Gilkes's web site, marshallgilkes.com, where not only can you learn more about Marshall Gilkes but also listen to sound samples from Edenderry and order this album. Overall, this is a very enjoyable CD and we will hopefully be able to look forward to more solo work by Marshall Gilkes in the near future.