Recordings
Out of a Dream, Loves Songs: A Review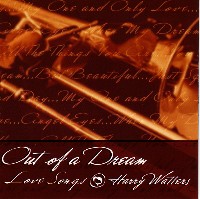 Out of a Dream, Love Songs DCD 411. Personnel: Harry Watters, trombone; Dan Robers, piano; Steve Fidyk, drums; Glenn Dewey, bass. Selections: All the Tings You Are, Am I Blue, But Beautiful, Just Squeeze Me, My One and Only Love, Night and Day, When My Dreamboat Comes Home, You Stepped Out of a Dream, Angel Eyes.
In what I believe is his seventh auditory offering as a soloist, Harry Watters chooses a path of romanticism, with nine of the best and most classic Love Songs, as the album is aptly titled. If asked for one word to describe this gorgeous recorded effort, I would have to choose "buttery." Okay, maybe not the popcorn variety but definitely something that would go well on a nice hot baked potato. I'm sorry but I'm feeling a little silly with all this beautiful romanticism pouring forth from this luscious if sleepy little album. In any case, subtle and tasteful seduction may be the motive here, and, if so, it could easily work. I might add that Harry's photo on the album might indicate a certain amount of impish delight in the pursuit of love, life and musical lyricism or at least a somewhat tongue-in-cheek attitude. Of course, after a hard day's work with the U.S. Army Blues, with which Harry also performs, who wouldn't want some of that? So, put this CD on, light some candles, grab your mate, scatter some sawdust on the hardwood floor (sorry if you have carpeting) and get busy polishing it.
All the Things You Are, the first track, as with most, begins with the thematic statement. Curiously, however, the arrangement continues with Steve Fidyk's nicely developed and polyrhythmic drum solo (with brushes) rather than the usual trombone or piano solo, the latter of which does indeed follow under the most capable hands of Dan Roberts, sequentially patterning his way through the bridge into the final A section. Best of all, Harry's solo thereafter begins unaccompanied sans any apparent chordal difficulty on this somewhat challenging chordal structure. The rhythm section joins him on his second chorus. The second track, You Stepped Out of a Dream, is presented in a beautiful and airy Latin jazz fashion featuring an excellent bass solo from Glenn Dewey and Harry's nicely applied It Might as Well be Spring quote, also making an additional appearance on his largely double-time solo on But Beautiful.
In a nod to the great Duke Ellington, Harry presents the flirtatious Just Squeeze Me which features a great piano solo followed by a bass solo backed up by a reggae feel in the drums. Dewey also quotes another Duke Ellington favorite with I'm Beginning to See the Light. Bridging the sonic gap between selections is Harry's high G, which I suppose could have cross-faded the whole group through to the next selection Night and Day. Perhaps in the next remix of this album, but enough of my extra-genre recording technique proclivities.
The next three of this album's offerings - My One and Only Love, Am I Blue and Angel Eyes - gently lull one into a somewhat dazed state. The first largely features Dan Roberts on piano and a very nice cadenza from Harry with a high Gb, only slightly less clean than his previous high Eb. The second has an interesting jungle drum feel throughout, and the third has a terrific piano solo followed by a sinuous bass solo by Glen Dewey, replete with a brilliant quote of the Beatles' Eleanor Rigby highlighting the lonely lyrics of this classic tune. These two solos are bridged by a subtlely polyrhythmic drum background gently guiding the music from one section to the next.
You should be very satisfied by the CD overall, neatly tied together with the reggae influenced When My Dreamboat Comes Home, a rollicking jam again featuring Dan Roberts who smartly quotes the famous Mercury theme from Gustav Holst's The Planets. I assume Mercury will be delivering a love letter and not a Dear John note.
More information can be found at Apple Music.