Recordings
Hora Decima: A Review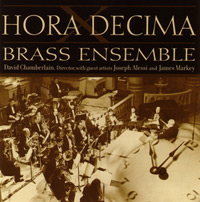 Hora Decima Brass Ensemble. Summit Records DCD363. Personnel: David Chamberlain, conductor; Joseph Alessi and James Markey, guest trombone soloists; Dominic Derasse, Frank Hosticka, Bruce Staelens, Tim Schadt, Matthew Ragsdale, David Schneck, trumpets; RJ Kelley, Patrick Pridemore, Jan Paulson, Anita Miller, horns; Bradley Ward, Robert Suttman, Jeff Nelson, Johannes Pfannkuch, Brian Mahany, Joel Shelton, trombones; Terry Pierce, Arthur Baron, euphoniums; Morris Kainuma, Mike Christianson, tubas; Glenn Rhian, James Musto, Greg Landes, percussion. Selections: Widdoes, Concertino for Brass Choir; Riegger, Nonet for Brass, Op. 49; Carmichael (Iveson), Stardust; Reed, Symphony for Brass and Percussion; Nilovic, Double Concerto pour Trombones; Traditional, La Virgen de la Macarena.
Formed in the early 1990s, the Hora Decima Brass Ensemble began as a monthly workshop experience for brass musicians in the New York City area. This self-titled CD seems to be the first commercially available recording by this group. Within the CD jacket, the ensemble is described as "dedicated to the presentation, promotion and preservation of music for brass instruments." This mission statement was clearly in mind when picking the repertoire for this CD that includes works featuring every section of the ensemble.
Many will be interested in hearing the Nilovic Double Concerto featuring Joseph Alessi and James Markey of the New York Philharmonic. In addition to the soloists, this work is scored for five additional trombones and is the only work on the CD that does not feature mixed brasses. This is an interesting multi-movement work, the playing is outstanding and is sure to serve as a reference recording of this particular work. Are you more interested in the tuba? Then Morris Kainuma's performance on the Wallingford Reigger Nonet for Brass will be of interest to you. Are you a fan of the horn? Then RJ Kelley's rendition of Stardust is sure to please. And if you happen to enjoy the brilliant sound of the trumpet, then David Schneck's performance of La Virgen de la Macarena will have you ready to run with the bulls. I was particularly pleased to see this ensemble's recording the Alfred Reed Symphony for Brass and Percussion which is a great work and does not seem to be recorded as frequently as other works for brass.
The playing on this CD is fantastic, the group seemed to be formed initially for the love of brass music and that enthusiasm comes through in their playing. It equals or surpasses the recordings made by many of the fine brass ensembles in existence today. CD purchase information can be found on Hora Decima's website. In ancient Rome, "Hora Decima" referred to the tenth hour of the day, and in my opinion, the hour spent listening to this recording is time well spent!