Recordings
Bedlam in Bethlehem: A Review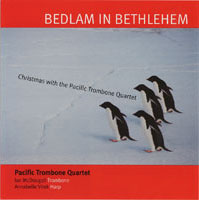 Bedlam in Bethlehem: Christmas with the Pacific Trombone Quartet, Lassus Audio LP-CD 315. Performers: Pacific Trombone Quartet: Brad Howland, Don McDougall, Bob Fraser, Keven Thompson; trombones. Other personnel: Ian McDougall, trombone; Annabelle Vitek, harp. Works:Joy to the World (Handel/Miller), French Carol (Trad./Furlong), The First Noel (Trad./Furlong), Away in a Manger (Trad./Miller), Hark! The Herald Angels Sing (Mendehlssohn/Furlong), O Jesu So Sweet, O Jesu So Mild (Bach/Fraser), The Little Drummer Boy (Onerati, Davis, Simeone/Reynolds), Jingle Bells (Pierpont/Pederson), Silent Night (Grüber/Perderson), God Rest Ye Merry Gentlemen (Trad. English/Pederson), O Holy Night (Adam/Pederson), Adeste Fideles (Anon./Pederson), The Christmas Song (Torme, Wells/Furlong), Bedlem in Bethlehem (Trad./Furlong), Here Comes Santa Claus (Autry, Haldeman/Dutton), Rudolph the Red-Nosed Reindeer (May, Marks/Fraser), Let is Snow (Cahn, Styne/Dutton), Jingle Bell Rock (Beal, Boothe/Furlong), Waltz of the Flowers (Tchaikovsky/Howland), We Wish You A Merry Christmas (Trad./Furlong)
The Pacific Trombone Quartet (Brad Howland, Don McDougall, and Bob Fraser of the Victoria Symphony and Kevin Thompson of the Malaysian Philharmonic Orchestra) has released its new Christmas CD, Bedlam in Bethlehem: Christmas with the Pacific Trombone Quartet, with special guest artists Ian McDougall on trombone and Annabelle Vitek on harp.
Listening to this disc, one comes to know the Pacific Trombone Quartet (joined by Ian McDougall on Jingle Bells, Silent Night, God Rest Ye Merry Gentlemen, O Holy Night, Adestes Fideles, Let it Snow and Jingle Bell Rock) as an ensemble that plays with a palpable joy, solid tone and intonation and fine style. The arrangements are well-suited to the ensemble, highlighting the orchestral style which is their bread and butter. Listeners will hear a variety of music on the disc, from the militaristic Adeste Fideles and French Carol, to the rousing Jingle Bell Rock (featuring Ian McDougall as soloist), to more introspective readings of O Jesu So Sweet, O Jesu So Mild and The Christmas Song.
The program overall is an excellent representation of Christmas music for trombones, containing a pleasant mix of sacred and secular tunes. It is particularly nice to hear the Tommy Pederson Christmas quintet arrangements put down on disc. They are a staple of any trombonists' holiday repertoire, being fun to play and hear. Canadian composer Greg Furlong contributes original arrangements to the effort, as do members Bob Fraser and Brad Howland. Howland's fine setting of Tchaikovsky's "Waltz of the Flowers" from The Nutcracker offers the listener a brief respite from the strictly trombone timbre, with harpist Annabelle Vitek furnishing a welcome delicate touch to the disc.
When asked how the idea of a Christmas CD came up, Howland responded:
Kevin Thompson and I are old friends. In fact, we went to high school together and while growing up were founding members of the Kamloops Symphony Orchestra. I cooked up the idea for the Christmas CD, and after much emailing about we decided that it would be a good project. I did my best to come up with a program, and we all showed up at the first rehearsal bringing whatever music we had. We spent a couple of rehearsals just reading through the music and trying to pick the best charts, then went to record.
From beginning to end this CD is a joy to listen to, and must have been a joy to record with such fine musicians. For more of the Pacific Trombone Quartet and in particular Brad Howland, check out Northern Soundings, a CD of music by Canadian composers.