Recordings
Christmas Time is Here by Dan Gottshall: A Review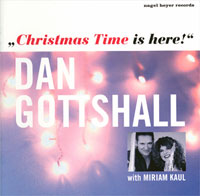 Dan Gottshall, Christmas Time is Here; Nagel Heyer Records CD 085. Dan Gottshall, vocals and trombone; Miriam Kaul, saxes and flute; Tim Murphy and Rolf Zielke, piano; Darryl Taylor, Bernd Kuchenbecker and Geoff Harper, bass; Tom Williams and Kenny Martin, drums; Delores King Williams, Tanja Siebert and Thomas Loup, vocals. "Winter Wonderland" (Bernard, Smith); "Santa Claus is Hangin' Round" (Leiber, Stoller); "I'll Be Home for Christmas" (Gannon, Kent, Ram); "'Zat You Santa Claus?" (Fox); "Santa Claus is Comin' To Town" (Coots, Gillespi); "O Tannenbaum" (Traditional); "Baby It's Cold Outside" (Loesser); "I Sam Mommy Kissing Santa Claus" (Connor); "The Christmas Song" (Tormé, Wells); "Deck the Halls" (Traditional); "Christmas Time is Here" (Guaraldi, Mendelson); "Have Yourself A Merry Little Christmas" (Martin, Blanc); "Rudolph the Red-Nosed Reindeer" (Marks).
Readers familiar with Gottshall's previous solo effort, the hard-edged Golem Shuffle, might wonder what kind of bend he might bring to an album of Christmas standards. While the Shuffle was all funk, hip-hop and attitude, Christmas Time is Here provides swinging takes on familiar holiday favorites and some tunes you may not have heard.
In this release, Gottshall continues to showcase both his singing and trombone playing. While only "Christmas Time is Here" is a strict instrumental track, each selection features Gottshall or Kaul taking rides. Gottshall's performance is always tasty, occasionally exhibiting that frenetic energy which made up much of Shuffle. Kaul provides fun sax and flute licks throughout the CD. Throughout, the rhythm sections are impressive. Especially notable are the pianists, Tim Murphy and Rolf Zielke, who display an ability to bond the solo lines and rhythm section by adding very tasty fills and providing some colorful voicings.
As you might expect from Dan Gottshall, this is a varied album, with tunes presented in many styles. It would make a fun present for your favorite trombonist, or a nice holiday addition to your jazz collection.
Your browser does not support the audio element.
Winter Wonderland
Your browser does not support the audio element.
Mommy Kissing Santa Claus
Your browser does not support the audio element.
The Christmas Song