Literature
Cantare: A Review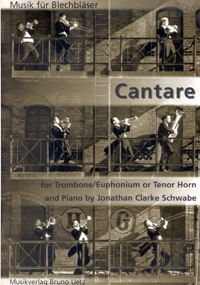 Schwabe, Jonathan. Cantare. Halberstadt, Germany: Bruno Uetz, 2001, Piano score and solo part.
This composition lasts about 4 minutes and is written in ABA form. The "A" sections are marked at quarter = 72 and feature rhythmic, angular lines with the occasional accent. The "B" section is marked at quarter = 66 and features a few slurred lines, although the melodic material is essentially the same as the outer sections. The range includes a low c-sharp and a few low e-flats, requiring a valve and the highest note is high a-flat. The only other notable difficulty might be a few fast awkward intervals. Oddly, the score states that this piece is for "trombone/euphonium or tenor horn."
The initial melodic material of this piece is agreeable enough, however, it never seems to develop into anything more than an accompanied etude. There is very little variety and the "B" section makes use of the same basic material as the beginning. The piano part does not lend a great deal of harmonic interest due to Schwabe's extensive use of octave doubling in each hand.
Cantare seems little more than a composition assignment and offers little musically to the motivated trombonist (or tenor hornist, for that matter).