Literature
Choral, Cadence et Fugato by Henri Dutellieux: A Review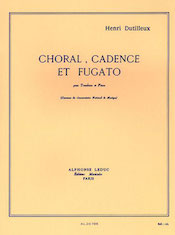 Dutilleux, Henri. Choral, Cadence et Fugato. Paris, France: Alphonse Leduc, 1950, piano score and solo part.
Composed for the French pedagogue Andre LaFosse, Choral, Cadence et Fugato has appeared on required lists for various solo competitions over the years but has not found its way into the mainstream of trombone recital programming. It is a well crafted virtuosic piece from the French repertoire deserving of more attention from trombonists looking for something substantial to include on a recital.
Those trombonists interested in participating in the 2003 Eastern Trombone Workshop solo competition will soon become intimately acquainted with this piece as it is the required work for one of the age groups. Students who are new to this work are in for a challenge and will find much to like about this piece, especially upon discovering the interpretive possibilities throughout the work.
As the title suggests, Choral, Cadence et Fugato is divided into 3 distinct sections although the sections segue smoothly from one to another. The seven minute piece begins with a lovely lyrical chorale tune in the trombone accompanied by lush piano chords. Written in 3/2 time, the melody floats in half-notes above the quarter-note motion of the accompaniment. This section is in E major and travels up to high B-natural and down to pedal B-flat before settling on a long low E.
The cadenza features a dramatic piano tremolo over which the trombone plays phrases of increasing intensity. The accompaniment foreshadows the fugue theme between each phrase and the trombonist is provided ample opportunity to put a personal spin on each phrase.
The fugue theme, first stated in the low register of the piano, is angular and rhythmic. As the trombone makes its initial statement, a counter melody is introduced in the piano. The composite rhythm of these two ideas together should make a stream of straight sixteenth notes. After some development of these ideas the fugue theme is stated in augmentation in the piano, over which the trombone plays a virtuosic fanfare figure. The fanfare proceeds into the high register where the piece concludes on a fortissimo high B-natural with an E major chord in the piano.
Choral, Cadence et Fugato is a beautiful work for the advanced player. A successful performance depends upon a strong high range, excellent rhythm and mature interpretive skills. It is a gem from the rich tradition of virtuosic French trombone solos which should be included in the repertoire of every serious trombonist.