Recordings
Maya by David Gibson: A Review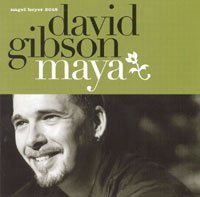 David Gibson: Maya. Nagel Heyer 2018. Personnel: David Gibson - Trombone, John Sneider - Trumpet, Wayne Escoffery - Tenor Sax, Jeremy Manasia - Piano, Dwayne Burno - Bass (tracks 3, 5, 6 & 9), Peter Hartman - Bass (tracks 1, 2, 4, 7 & 8), Tony Leone - Drums. Selections: Big John (Gibson), Solid State (Gibson), New Level (Sneider), Maya (Gibson), Tré (Gibson), What's New (Burke/Haggart), Snide Remarks (Gibson), Speak Low (Nash/Weill), Indomitable (Gibson).
For those of you with doubts about the future of modern jazz trombone, let Maya by David Gibson assuage your fears. The debut CD from this New York based jazz musician is a fresh and exciting set of seven originals and two standards. Gibson, winner of the 1991 Frank Rosolino Memorial Award from the International Trombone Association, can also be heard on Things To Come, the recent release from the Dizzy Gillespie All-Star Alumni Big Band, and on the forthcoming recording by Slide Hampton and World of Trombones.
On Maya, Gibson is joined by a cast of like minded, and similarly gifted, young musicians. John Sneider and Wayne Escoffery provide skillful ensemble work and compelling solos; and the rhythm section of Jeremy Manasia, Dwayne Burno or Peter Hartman, and Tony Leone provide buoyancy and vitality in their accompaniment. However, the highlight of this CD is the beautiful sound and fluid execution of David Gibson's trombone playing. In his liner notes, Gibson acknowledges the influence, mentorship, and/or friendship of four trombonists: Slide Hampton, J.J. Johnson, Curtis Fuller, and Steve Davis. Each of these influences can be heard in Gibson's playing, but he probably won't be mistaken for any of them, he just sounds like David Gibson.
All of the original compositions on Maya land safely in the middle of the post-bop jazz style. The trumpet/tenor/bone front line and the hard swinging style come straight from the Jazz Messengers' esthetic. The performances could also be interpreted as "safe," but that would be a bit inaccurate. Each soloist is giving an honest musical rendering of a style that most modern jazz fans are very familiar with. While Maya may not push the envelope of the art form, it is full of spirited and truthful performances.
On its own, Maya is a very enjoyable record that can hold a spot in any jazz fan's heavy rotation, but it may be just as important as a portent of great things to come from David Gibson.
Your browser does not support the audio element.
Big John
Your browser does not support the audio element.
Tré